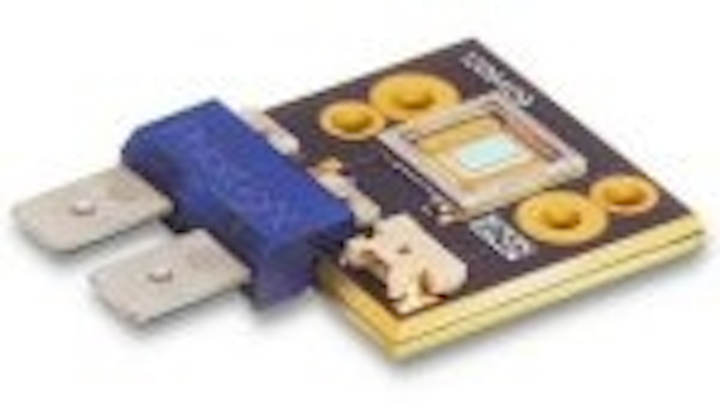 Luminus Devices says that its PhlatLight LEDs have been used in entertainment lighting fixtures from Martin Professional and Chauvet. In addition, the company has introduced a
UV PhlatLight LED
, and has also joined the NGLIA.
Martin MAC 350 Entour
Martin Professional's MAC 350 Entour profile light contains seven CBT-90 white PhlatLight LEDs and has a total light output of 6,500 lumens, light levels previously achieved only with high-intensity discharge (HID) lamps. The MAC 350 Entour has a lifespan of more than 25,000 hours.
The MAC 350 Entour was developed via a project called INLED (Intelligent LEDs), which is a research collaboration between Martin Professional, Aalborg University (Denmark), and the Danish National Advanced Technology Foundation (see Related Stories).
The MAC 350 Entour is intended for touring and event environments, and permanent venues such as theatres, TV studios, sporting arenas, education facilities, night clubs, ballrooms and cruise ships, where high-brightness and performance is needed. Until now, profile lights have used traditional HID lamps, which are costly to replace, contain mercury and have a life span of only 3,000 hours, necessitating frequent replacement.
"The MAC 350 Entour is the entertainment lighting industry's first LED alternative to traditional HID-based profile fixtures and it exceeds traditional 300 watt fixtures in brightness," said Peter Skytte, product manager, Martin. "PhlatLight LEDs…give Martin the ability to develop new, more cost-effective lights for the entertainment industry that are ideal for a host of temporary and permanent environments."
Chauvet Q-Spot 260-LED
Luminus LEDs have also been used in the Chauvet Q-Spot 260-LED entertainment light, which contains a single CST-90 white PhlatLight LED as a practical and cost-effective alternative to LED arrays. The Q-Spot 260-LED is ideally suited for lighting concert stages, nightclubs and the mobile disc jockey market.
Weighing 29 pounds, the Q-Spot 260-LED light is capable of delivering 3,500 lumens, without costly lamp changes or high energy consumption. It is designed for small to medium-sized installations as well as mobile applications.
"PhlatLight LEDs enable Chauvet to manufacture lighting fixtures that are smaller, lightweight and obviously brighter with a more pure, flat light ideally suited for nightclubs and mobile environments where temperature control is essential," said Mike Graham, product manager, Chauvet.
"The real value of big-chip PhlatLight LEDs is that they enable the design of much more efficient optical systems for controlled-beam applications such as the Q-Spot imaging gobo spotlight, resulting in more light in the beam and reduced overall power consumption," said Don McDaniel, director, global entertainment, Luminus Devices.
Luminus joins NGLIA
Luminus has joined the Next Generation Lighting Industry Alliance (NGLIA), an organization that partners with the US Department of Energy (DOE) to accelerate the adoption of solid-state lighting (SSL) in general lighting applications.
"NGLIA includes the world's leaders in SSL adoption and design and we look forward to working closely with member companies to increase research, development and manufacturing technologies and methods of environmentally conscious lighting solutions," said Keith Ward, president & CEO, Luminus Devices.
Currently, 16 private, for-profit companies active in solid-state lighting research, development, infrastructure and manufacturing in the US have membership in NGLIA. The members are 3M, Acuity Brands Lighting, Applied Materials, CAO Group, Corning, Cree, Eastman Kodak Company, GE-Lumination, Light Prescriptions Innovators, LSI Industries, Luminus Devices, OSRAM Sylvania, Philips Solid-State Lighting Solutions, QuNano, Ruud Lighting and Universal Display Corporation.