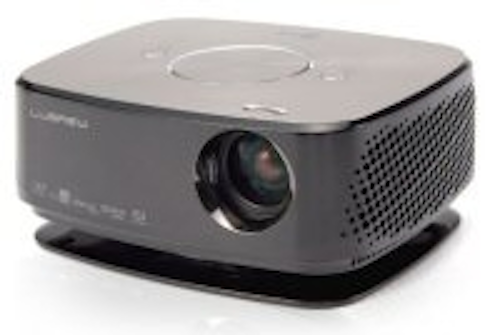 In addition to supplying LEDs to Samsung and LG for their latest projectors, Luminus Devices has settled a dispute with its principle lender, Hercules Technology Growth Capital, which threatened to put the Massachusetts-based LED maker out of business (see
Luminus Devices fights to keep the lights on
).
Luminus' press release provides very little in the way of useful information, but a Boston Globe article is much more helpful.
Luminus has renegotiated the amount of its loan with Hercules, and has arranged bridge funding until it can raise more money from investors. Even so, Luminus was forced to lay off 30 of its 130 staff, in order to "make sure we were properly sized for our current demand," as the company's CEO Keith Ward was quoted in the article.
Samsung XGA data projector
LED maker Luminus Devices has supplied the light source for Samsung's new XGA (1024 x 768 pixels) LED data projector, described as the industry's first LED-powered data projector. The Samsung device, introduced at the Consumer Electronics Show in Las Vegas, NV, uses Luminus' PhlatLight PT-120 LEDs.
The new Samsung LED data projector (see Samsung press release) has an output of 1,000 ANSI lumens (max), and promises a lifespan of up to 30,000 hours. It's introduction provides a very strong indicator that LEDs will start replacing conventional arc lamps in mainstream front projectors used in business, education and commercial applications. This market is forecasted, by market research company Pacific Media Associates, Inc., to be in excess of 6 million units in 2010.
LEDs are a compelling light source for front projectors since their high reliability eliminates the need for expensive lamp replacement, which typically ranges from $250 to $400 including parts and labor. This drives down the total cost of ownership and reduces the administrative burden to manage stocks of replacement lamps and disposal of used lamps.
"Samsung's new LED data projector is a great illustration of how Luminus works in close partnership with its customers to create a new multi-million unit market for PhlatLight LEDs and demonstrates that our unique large chip technology is a great fit for mainstream data projectors," said Keith Ward, CEO, Luminus Devices. "In today's challenging economic landscape, the marketplace is asking for affordable, long-lasting, lower total cost of ownership projectors in the business and education markets. Luminus and Samsung are fulfilling this demand while also creating new value for our customers with next-generation technology advancements such as amazing color depth and instant start and restart functionality."
HX300G XGA ultra-compact projectors from LG Electronics
Luminus LEDs are also powering the HX300G, LG's latest high-brightness LED projector weighing less than 1 kg.
The HX300G combines XGA (1024 x 768) resolution with market-leading brightness of 300 ANSI lumens in a compact form-factor suitable for mobility applications, small-to-medium size meeting rooms and casual home entertainment.
The HX300G incorporates versatile input/output connectivity options, including HDMI, USB, and a FM transmitter for audio broadcast to an external stereo system, that displays digital pictures or movies directly from solid-state memory drives. Leveraging the "instant start" capability from its LED light source, the HX300G can be set up to display professional or entertainment content in seconds and can also display a variety of content without any external source device.
"The HX300G brings XGA resolution and higher brightness to our line of LED projectors, addressing requests from our business customers as well as most consumers," said Brian Park, marketing team leader for LG. "PhlatLight LEDs deliver the performance needed to project larger screen sizes in normal ambient lighting conditions, while maintaining a very compact form factor. This directly translates into new opportunities to grow our LED projector sales in small and medium meeting rooms for business as well as in homes, where they are a viable second large display that unlike flat panel TVs can easily be moved around the house."