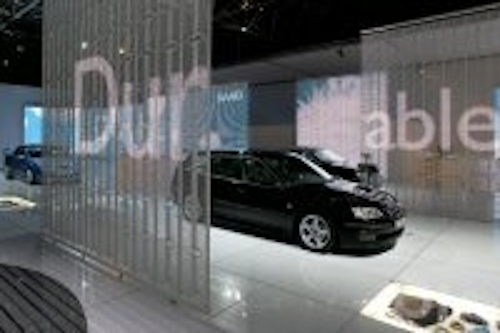 The first white LED Stealth Screen from Element Labs has been used by automotive manufacturer Saab as part of its exhibit at the Mondial de l'Automobile in Paris.
The Stealth screen was also awarded an "International Product of the Year" award at this year's LDI Show in Las Vegas (see below).
The Stealth panel is the building block of an innovative, transparent, large-scale video screen solution. The modular, high-resolution display (25mm pixel pitch) is composed of individual panels that can conform to any installation shape and size.
The panel's lightweight design makes the system virtually transparent when the screen is off. The Stealth system deploys rapidly and folds together for easy stacking and portability, and is ideal for both permanent and temporary applications such as tradeshows, architectural spaces, TV stage sets or concerts.
The Saab display featured seven screens, consisting of 1200 white Stealth panels (192 square meters), producing spectacular image quality, resolution, flexibility, transparency and brightness. This phenomenal media technology was planned, designed, installed and supported by the internationally recognized full service provider, CT Germany.
"Once again, Saab was able to deliver a stunning display and aid in the world premier of Stealth," said Georg Roessler, managing director of CT Germany. "Based on a very close relationship with the Element Labs development team, CT Germany was once again able to set a milestone with the first implementation of a white LED screen."
Due to the perfect integration of individual screens into the exhibit architecture, fascinating 3D lighting designs as well as a unique ambient experience for the attendees of the auto show was achieved. "A variety of our customers are inspired by the creative LED solutions we can offer," said Roessler.
The lightweight Stealth screens with a height of four meters were hung from the ceiling, floating just above the floor, producing an impressive airiness. Four screens each measuring four meters and two screens with a width of eight meters each were constructed by the 40 x 40 elements. Another screen in a curved form was also installed – with an impressive width of 16 meters.
Stealth prize
In related news, Element Labs has received a 2006 Live Design "International Products of the Year" award for its new Stealth LED Screen at the LDI 2006 exhibition held in Las Vegas, Nevada.
The award was presented at the Live Design International Awards reception, which was held on Saturday, October 21 at the Las Vegas Convention Center.
The LDI Products of the Year award recognizes the best new gear in entertainment technology that has been released during the fall trade show season and currently shipping. The award is determined by a panel of judges consisting of designers and technicians in their respective fields of Lighting, Projection, Sound, Staging, Rigging and Special Effects.
"Being recognized by such a talented group of professionals is tremendous," said Nils Thorjussen, EL's founder and CEO. "We are so fortunate to have such a strong and talented group of engineers and designers to make winning an award like this possible."