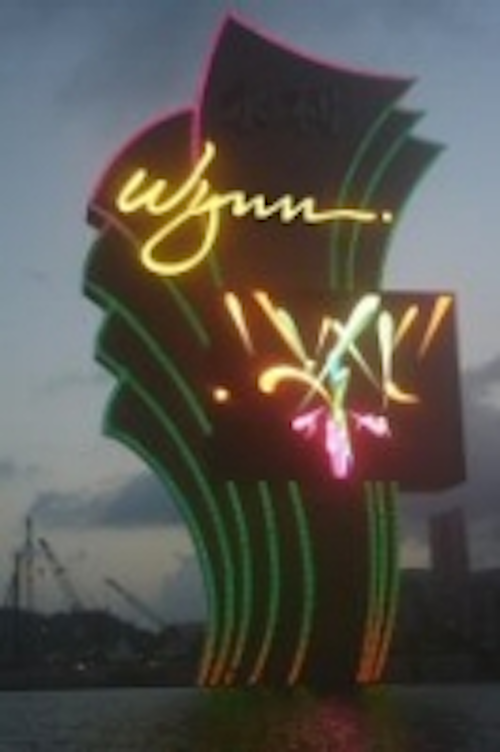 Daktronics supplies giant LED sign for Wynn Macau
Daktronics has installed a unique video display system for Wynn Resorts Macau in Macau SAR, China that combines a regular 23-mm outdoor LED video display with new ProPixel® intelligent LED lighting modules.
Wynn Macau is located on a 6.5-hectare waterfront site and opened on September 5, 2006. The ProStar video display is approximately 11 meters high by 15 meters wide (37 feet by 49 feet), is double sided, and displays images with full-color, LED pixels on 23 mm center-to-center spacing. The display has the capability to show video, animation, graphics, news headlines, advertisements, promotions and other information.
A unique feature of the Wynn Macau marquee installation is the use of 13,800 RGB LED elements utilizing Daktronics' ProPixel technology. Each circular LED "puck" is individually addressable and contains 20 LEDs (8 red, 6 green and 6 blue).
The ProPixel LED elements offer the ability to design and build freeform, video-capable architectural elements without the constraints of traditional square LED modules. They also provide a different option than neon or incandescent chaser lights that are typically used, while consuming less power and requiring less maintenance.
How do you solve a problem like Mariah?
Hollywood-based XL Video has selected Barco LED, projection and image processing equipment as the centerpiece of Mariah Carey's current "The Adventures of Mimi" tour. Barco gear includes four movable LED screens composed of ILITE 10 tiles, and thousands of Barco MIPIX modules for the stage's two architectural pieces (a huge "M" that frames the stage, plus a flying "O" ring that masks the smallest ILITE screen).
To complete the Barco equipment array, twin ENCORE Video Processors provide 12 layers of HD video that can be routed to any LED wall or projection screen. However, in this unique concert configuration, the standard ENCORE Controller is replaced by a custom interface designed by Portland-based Control Freak Systems.
Using DMX protocol, ENCORE's image processing tools and all individual video layers can be assigned to any dimmer on the GrandMA console. With the same ease as fading up a light, the LD can size, position, color correct and fade any layer, and perform completely synchronous video-plus-lighting moves.