Pulsar's ChromaFlood 200 set up to Test the Nation
LED fixtures from Pulsar have been used on a prime-time quiz show in the UK.
Mar 30th, 2006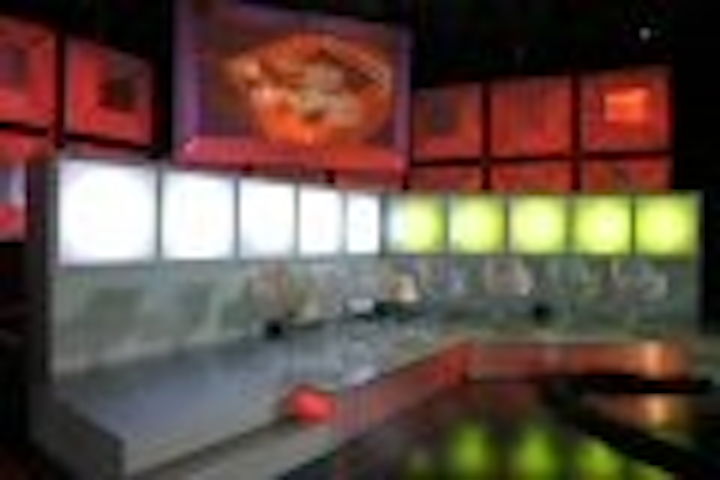 Pulsar ChromaFlood 200 LED fixtures have been incorporated on the set of the BBC quiz show Test the Nation. The set design by Simon Kimmel was a bold step forward from the previous version and gave Lighting Designer Dave Davey a few challenges to tackle.
The new set incorporated large, specially-formed sections as a backdrop and to indicate team colors. The specially formed sections are made from an opaque polycarbonate material and are around 1200mm square with a raised centre section which measured around 600mm square.
Davey needed the center section to be lit by a color-changing fixture that would cover the intended area from a minimal beam throw distance. The beam throw distance within the set was a maximum of 500mm, also with it being an enclosed area it wouldn't allow for a fixture that generated a large amount of heat.
Another consideration was the high level of general studio light that would be projected on to the front of the set while illuminating the contestants, celebrities and presenters.
In conjunction with Steve Wells from Richard Martin Lighting, Davey evaluated the Pulsar ChromaFlood 200 with a 45-degree beam angle option. After a testing session, a total of 32 pieces were specified, along with other Pulsar ChromaRange fixtures and moving lights.
The ChromaFlood 200 uses a combination 66 LEDs, 22 x 1–watt red, 22 x 3-watt green and 22 x 3-watt blue (total 154 W) all housed in an IP65-rated enclosure that offers a wide range of beam angle options through interchangeable lens plates.