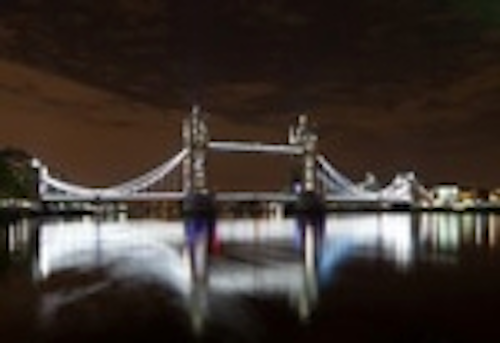 Tower Bridge, which crosses the river Thames in the center of London and is one of the world's most recognizable landmarks, has been transformed with a new lighting system to mark the 2012 Olympic and Paralympic Games. The bridge will be illuminated in white this weekend to celebrate the Queen's Diamond Jubilee.
An LED lighting and cabling system has been installed at no cost to UK taxpayers, thanks to an "innovative funding deal" reached between Mayor of London Boris Johnson, bridge owners the City of London Corporation, and London 2012 sponsors EDF and GE.
In total 1800 special energy-efficient LED lights have been fitted, along with 2000 meters of energy-efficient LED linear lights, 5000 meters of cable and 1000 junction boxes.
The new lighting system enhances the architectural features of the bridge, and replaces static lights with lamps that can vary in intensity and color, while at the same time cutting energy consumption considerably.
The new lights will take center stage during the 2012 Games when Tower Bridge will be fitted with its giant Olympic Rings and Paralympic Agitos for the 45 days of the Games. Passers-by will see the new system being tested over coming weeks ready for spectacular one-off lighting displays during key moments of the Games.
The Tower Bridge project was first announced in April 2011, and final planning permission was granted in November 2011. Work began immediately to install the new system, which is expected to be in place for 25 years.
The Mayor of London Boris Johnson said, "Tower Bridge is already a global icon and this much-loved landmark is now even more spectacular thanks to a world-class illumination system. As London gears up for a summer like no other, this fantastic lighting makeover is another example of how the capital is benefiting from the Games. Tower Bridge can now play a starring role in our celebrations, starting off this weekend by being bathed in a stately white light for the Queen's Diamond Jubilee. What's more, thanks to the commitment and generosity of all the partners, including the City of London Corporation, EDF Energy and GE, this is a lasting legacy for decades to come, achieved with a zero price-tag for the taxpayer."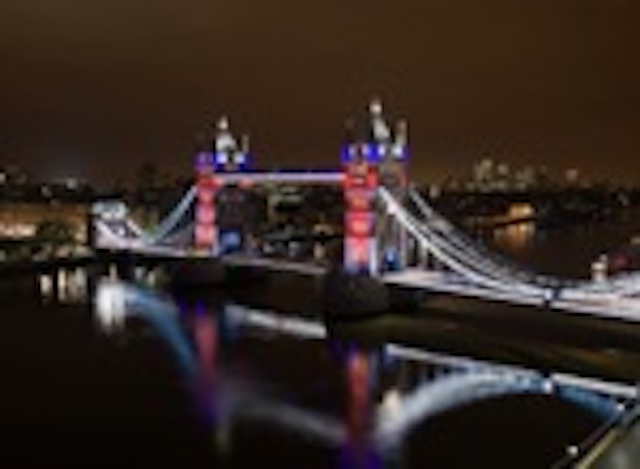 Mark Boleat, the Chairman of Policy & Resources for bridge-owners the City of London Corporation, said, "The new lights will give Tower Bridge an elegant night-time look for the next 25 years, with the capability of creating firework-like displays on occasions of importance for London and the nation."
Phil Marshall, President and CEO, GE Lighting EMEA said, "We are incredibly proud to have been involved with the lighting scheme at Tower Bridge. The combination of architectural and floodlight LEDs were specified to help reduce the energy used to light the bridge by up to 40% compared with the previous system. As a London 2012 Sustainability Partner and London 2012 sponsor, GE is excited to have successfully contributed to the future of Tower Bridge and to London's sustainability commitments. Furthermore, during London 2012 as part of the overall celebrations, there will be an evening light display every evening at on the Bridge, ensuring those in the city can fully enjoy the new lighting scheme and see Tower Bridge as they never have before."
Vincent de Rivaz, Chief Executive of EDF Energy, said, "As an official partner and the official electricity supplier of the London 2012 Games, it has been a delight to work with the GLA and GE to give Tower Bridge a dramatic makeover. We are proud to be able to help show off London's most famous bridge over the Diamond Jubilee weekend and throughout the London 2012 Olympic and Paralympic Games. EDF Energy powers some of London's most iconic landmarks with low-carbon electricity, including Tower Bridge. Thanks to its new state-of-the-art lighting, Tower Bridge has further reduced its carbon footprint to become a standout symbol of sustainability, encouraging visitors and residents to live a lower carbon lifestyle."