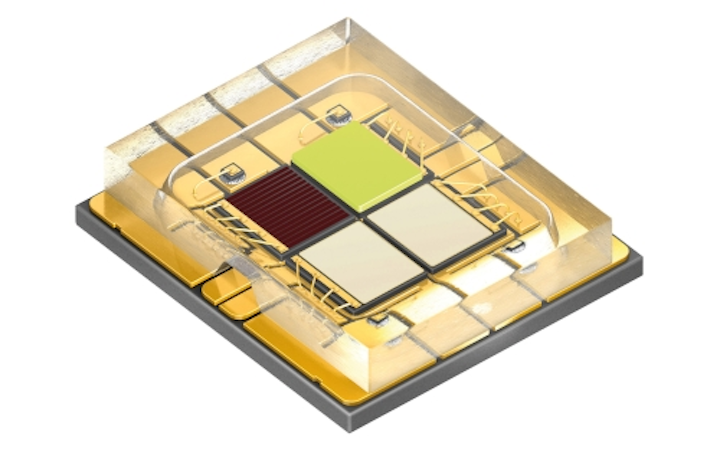 A multichip package with red, green, blue, and white LEDs delivers more than double the brightness of prior products designed for use in stage spotlights.
Osram Opto Semiconductors has announced a new LED in the Osram Opto Stage family (model LE RTDUW S2WP) that the company says delivers 2.6 times the brightness of prior products with only a 30% increase in surface area. The package integrates RGB (red, green, blue) plus white LEDs and is designed for use in spotlights for entertainment venues and stages.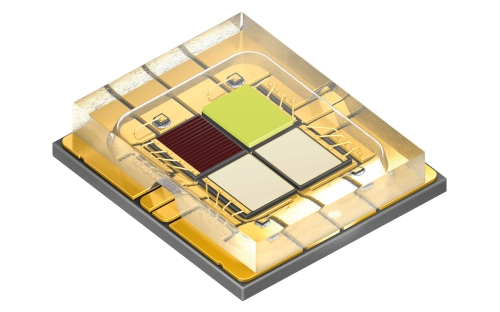 Osram brightens performance venues with new Ostar Stage RGB packaged LED for entertainment lighting
The performance gains come courtesy of new LED chips based on the latest Osram manufacturing processes. Each of the chips is 2 mm2 in size. The green, blue, and white chips use Osram's UX:3 process in which thin-film layers are grown on a substrate that is later removed with the chip flipped for packaging. The red LED uses standard thin-film technology.
The four chips can each be driven at 4.5A to achieve the aforementioned 2.6 output gain. Osram bins the LEDs at 1.4A. At the binning current the red LED delivers 140 lm, the green LED delivers 280 lm, and the blue LED outputs 1.8W of radiometric power. At 4.5A those figures climb to 360 lm, 680 lm, and 4.7W.
Still, the biggest improvement in performance comes in the white LED. At 4.5A, the LED outputs 1040 lm whereas Osram's prior Ostar Stage LED family topped out at 290 lm. The improvement in the white LED is due to both the process and a new ceramic phosphor technology. The combination will also deliver 20,000 hours of life to 50% of initial brightness (L50).
"We are continually developing the chips and the package for the Osram Ostar Stage family so that we can offer our customers high-quality products in different output classes," said Andrew Lin, NAFTA product marketing manager for the LED industry at Osram. "Our aim with this new LED is to raise the standard for moving heads in the high-output category."
The Ostar Stage family has a number of different options in terms of LEDs designed for different spotlight applications. For example, in 2013 the company announced tunable-white models that have four LEDs – two warm white and two cold white.