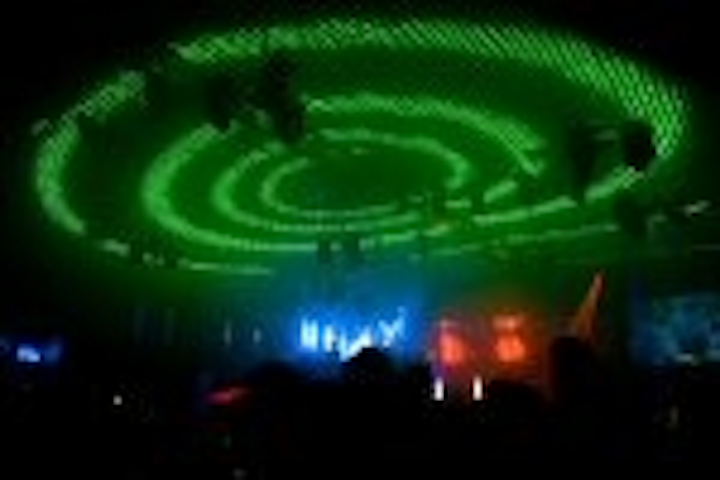 High-profile new Belgian superclub Noxx has used 300 square metres of Chroma-Q™ Color Web 125 from A.C. Lighting to provide a stunning LED video ceiling in its main dance room – making it one of the most ambitious LED effects nightclub installations in Europe.
The 2000-capacity venue is Belgium's largest nightclub and its founders wanted to create some unique, cutting-edge visual effects not seen before in club-life.
To achieve this, the venue worked with Lighting Designer Luc Peumans of digital lighting specialists Painting with Light to design a very high tech set-up utilising the latest LED technologies, and Belgian entertainment technology specialist AED RENT nv to co-specify, supply and install the system.
The biggest challenge of the installation involved specifying an LED video surface to cover the entire ceiling of the extremely large, asymmetrical main dance room. AED RENT nv chose the Chroma-Q™ Color Web 125 based on it providing the most versatile and easy-to-use solution for displaying the desired video resolution for the LED ceiling.
Exclusive Chroma-Q™ distributor A.C. Lighting supplied the Color Web to AED RENT nv and provided technical support during the system's installation and set-up.
The Color Web's modular design made installation very straightforward as the 1m square panels could be quickly and easily clipped together and custom configured to neatly fit along the room's angular perimeter. The web was fixed to the ceiling using a truss frame and bungee cords for extra support.
All video content for the LED surfaces is manipulated via six MA videoservers and was custom created to take full advantage of the room size and display resolution. Content is largely pre-programmed and played back on the fly each night by the in-house light jockey, and includes various geometric shapes and patterns.
Glenn Roggeman, CEO of AED RENT nv commented: "AED RENT nv has a reputation for investing in the latest technologies. We decided to go for the Color Web 125 after being impressed by its flexibility and overall ease of use. The ability to drive the 300 panels through 60 ethernet PSUs daisy-chained together saved us time and space, and no need to manage up to 120 DMX universes. The Color Web has been a huge hit with the Noxx club and its customers, so everyone involved is really pleased with the end result."
The Chroma-Q™ Color Web is designed and manufactured by Artistic Licence and distributed worldwide by A.C. Lighting.