HSL Group supplies LED lighting and effects for UK reality show
A UK supplier to the professional lighting and sound industry has provided a mix of LED lighting to illuminate the stage of an upcoming autumn television series.
Aug 26th, 2008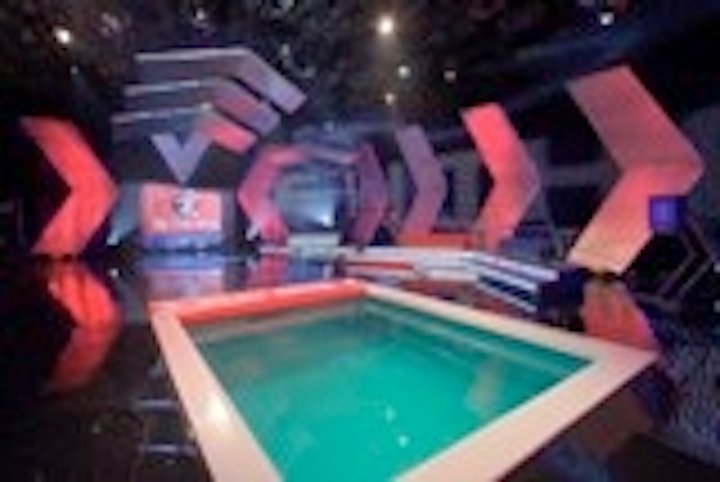 HSL Group Holdings has supplied the upcoming 10-part BBC series, "Hole In The Wall," with various kinds of LED lighting including curtains, strips, and bricks.
The show features two teams with 3 lycra-clad celebrities who have 7 seconds to jump through a tracking wall with variously shaped holes ... or end up head first in a swimming pool.
Lighting designer Tom Kinane had a unique problem. Due to the show's premise, a swimming pool was needed on the set. Its installation into one end of the studio meant the loss of 6 ft of head room, which in turn affected the way he lit the set elements and action.
Set designer Richard Plumb came up with a design incorporating 10 large scenic chevrons, and used HSL's SoftLED back cloth for displaying people's names, other text and assorted graphic backgrounds.
The HSL Group ended up providing 300 sq. m. of SoftLED curtaining, plus 160 Pulsar ChromaStrips, 60 i-Pix Satellite LED bricks, 24 JTE PixelLines, 20 Vari*Lite VL 1000 moving lights, and a WholeHog 3 console for control.
The 12 SoftLED panels are arranged 4 wide and 3 down around the perimeter of the studio, giving a moving backdrop. Plumb particularly liked the way the careful application of certain types of LED material to the shapes and surfaces of the set can dramatically increase its depth and perception on camera.
The PixelLines were located under the stairs and staging area and used - among other effects - to wash the space with the team colours of red and blue.
Each chevron was framed by sixteen 600mm ChromaStrips, and front lit with two V*L1000s scaled to fit the shape.
The chevrons were constructed from corrugated material, so the satellites were carefully positioned below - 4 per chevron - for up-lighting and catching all the return surfaces, contrasting with the down lighting from the Vari*Lites to produce complex two-tone texturings with the different qualities of light. The other 16 satellites covered the silvered material panels behind the tiered audience seating.
Other V*L2500s and 3000s over the studio floor were used for beam excitement and other effects during the game, and the floor contained chevron shaped sections of Barco MiStrip LEDs supplied by Anna Valley.