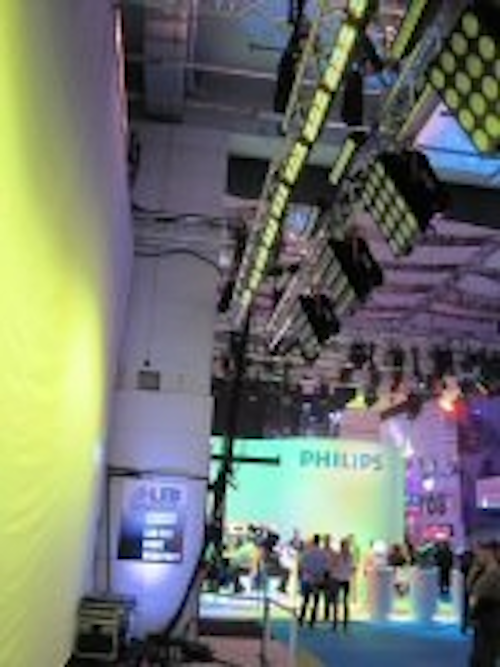 PLASA, the annual tradeshow for event, installation and entertainment technology, took place on September 11-14, 2011 at Earls Court in London, UK. As has always been the case in recent years, LED lighting products were very much in evidence.
One novel feature this year was the "LED Shootout" hosted by the Society of Television Lighting and Design (STLD), which attempted to answer the question: "Can you light a TV set entirely with LED fixtures?"
Manufacturers submitted a wide variety of different types of LED-based fixtures to the Shootout, which were assessed and compared in a presentation theater. Elsewhere, LED fixtures were used to illuminate an 8-meter-wide cyclorama, where they were compared with traditional 1250W tungsten-halogen predecessors. LED fixtures performed particularly well in their ability to deal with deep saturated colors.
In the center of STLD's stand was a mini TV studio, where attendees could get hands-on experience of lighting the studio set-up, viewing the results on HD broadcast cameras. A number of case studies were also presented, notably the ITV Daybreak studio, which is completely lit using Selador LED fixtures from ETC.
Look for more information on the Daybreak studio case study, and on PLASA itself, in the October issue of LEDs Magazine.
Innovation Awards
Eight PLASA Awards for Innovation were presented at the show as well as a Gold Award and a special award for Sustainability. During the show's opening two days, 48 products were judged live by an independent panel of expert judges who toured the show floor to view each product presentation. Nominees are asked to demonstrate a new style of thinking, an improvement in technical practice, an aid to safety, energy-saving or sustainability benefits, or new technology, materials or techniques.
Among the eight winners of the PLASA Awards for Innovation was Denmark-based Martin Professional's new MAC Aura luminaire, which provides new types of visual effects, and was, in the judges' words, "Eye Candy - nothing more, nothing less and we've never see it before."
The MAC Aura is a compact LED moving-head wash light with zoom. Its optical system combines two illumination systems in one luminaire – multicolor beam LEDs and a backlight LED lens array – to produce a visual palette that takes the synthetic look out of LED wash lights for unique lighting-design possibilities.
GDS
Meanwhile, UK-based GDS won both an Award for Innovation and the special PLASA Sustainability Award for its
ARCSystem of LED auditorium lighting fixtures
. The judges felt the system "will have a significant impact on the carbon footprint of the buildings it is utilized in, and provides an elegant replacement house-light system."
The photo shows 1-cell and 8-cell ArcSystem fixtures, which are available with a range of beam angles including 19, 24 and 37 degrees, and in a range of color temperatures (2700K, 3000K, 4100K). The fixtures contain Bridgelux LED arrays, and the CRI is listed as over 92. The 150W 8-cell fixture has a light output of 10,000 lm.
LED Engin
Many PLASA exhibitors are lighting-fixture manufacturers, and the only LED maker in evidence was US-based LED Engin, a specialist in making compact and powerful LED arrays of the type desired by many fixture types in this market.
At the show, LED Engin announced
two proprietary lenses
; an 8-degree narrow spot lens and a 15-degree spot lens, designed for use with the company's compact, high-flux-density LZC (12-die) and LZP (24-die) LuxiGen emitters, respectively.
LED Engin was also able to showcase a number of design wins with companies exhibiting at PLASA. For example, 4-die LuxiGen RGBW LEDs are used in the P5 wash-light from SGM, which comprises an array of 44 LEDs with Khatod optics.
Also, Martin has used the 4-die (10W) flat-top CW/WW LED in its MAC 401CT white-light moving-head wash fixture. Each LED contains two warm-white and two daylight-white LEDs in a 7.0x7.0x1.1-mm footprint.
The Phantom LED25 Wash from Highlite International BV, an RGBW moving head, contains the LuxiGen 12-die RGBW emitter with a frosted lens. "In our search for compact, highly-powerful sources for our new moving heads, it appeared not easy to find a reliable LED that also featured wonderful color mxing," said Peter Buckx, Highlite's purchase manager. "The market will be astonished by the experience that the punch and true color mix from the Phantom can create."
i-Pix
UK manufacture i-Pix Ltd added to its range of entertainment lighting products with the distinctive Beamlight. Chris Ewington, CEO of i-Pix, said, "For six years we have wanted to displace the ubiquitous ACL beamlight, a regular fixture for concert touring and TV production, which typically consumes 240 watts, and with only a 15-hour lamplife."
LED Engin's 12-die, 40W RGBW LZC enabled i-Pix to develop an LED-based replacement. Ewington said that i-Pix has produced "a new homogenized beamlight with the added benefit of being a focused device, weatherproof and capable of meeting arduous touring environments too."
The Beamlight contains a custom-designed parabolic reflector mounted onto a focusing system which enables a range of beam angles from +/-35 degrees down to a tight 5-degree beam. i-Pix has also utilized SBM-160 color-mixing LEDs from Luminus in a number of its other fixtures.