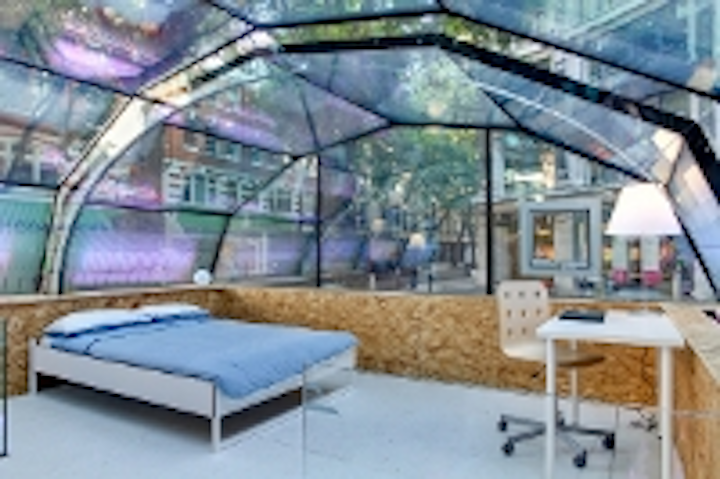 The Photon Project is a collaboration of Oxford University and glass engineering company Cantifix studying lighting and wellbeing over four years, and the work is on display this week at the London Design Festival. The researchers have constructed a glass Photon Pod living space equipped with a variety of color-tunable lighting including installation of a Philips HUE LED lamp in a table fixture.
The glass pod will allow the public to participate in experiments that will characterize levels of alertness and relaxation under different solid-state lighting (SSL) scenarios. The Philips HUE lamp is just one of several LED lighting products used in the pod as you can see in the nearby photo.
"Understanding how people feel in different light settings means applying designed light in ways that harmonize with natural light and benefit people when they're at home, at work — and anywhere else, at any time," Brent Richards, an architect and the designer responsible for the concept and implementation of the Photon Project pod. "Philips Hue is much more than a lamp with mood settings — it is the tip of the iceberg of what we can do with more dynamic lighting, as the Photon Project will show."
"With Philips Hue, we are only beginning to understand the endless creative possibilities digital lighting will bring," said Sean Carney, Philips chief design officer. "As we acquire new insight into the physiological and psychological effects of light, programmable digital light sources such as Hue will allow us to apply light in ever more meaningful ways. Whether supporting our bodies' own natural balance by simulating daylight or achieving something much deeper, promoting feelings of wellness."
The Photon Project began in 2009 and the results are being presented at The Photon Symposium held at the London Design Festival. After the festival, the researchers will move the Photon Pod to Oxford where it will become one of nine pods in a Photon Village that will allow 300 participants to experience what the researchers call "life under glass" and assist in the data collection process.