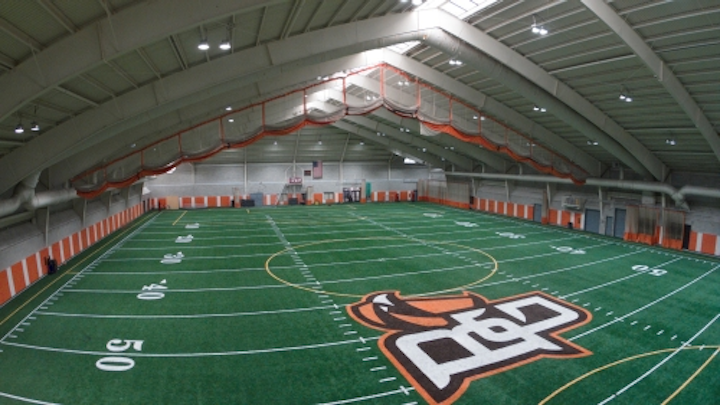 Ohio university has realized energy and maintenance savings from SSL retrofit of an athletic facility and found that the instant on/off capabilities of LEDs deliver unanticipated extra savings.
Cree has announced a solid-state lighting (SSL) project at Bowling Green State University (BGSU) located near Toledo, OH involving the university's Perry Field House athletic facility. The university had contemplated replacing the metal halide (MH) lighting in the facility with T5 fluorescent lighting but found that the Cree CXB Series of LED high bay fixtures would provide better lighting, better meet the university's sustainability goals, and match the fluorescent alternative in payback period.
Interested in more articles & announcements on event, sports, & entertainment venue lighting?

Bowling Green had joined the American College & University Presidents' Climate Commitment (PCC) back in 2012 requiring that the university pledge to achieve climate neutrality. In support of that commitment, students created the Student Green Initiatives Fund involving voluntary $5 per semester contributions from students. That fund would prove important to the SSL project.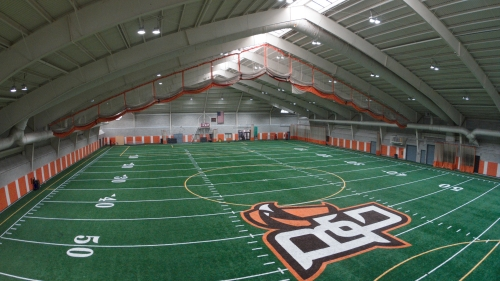 Cree LED high bay fixtures light Bowling Green field house
The project involved lighting an indoor artificial-turf athletic field measuring 100×60 yards. "This was one of the projects we profiled in our climate action plan, so the proposal for this project was submitted to the Student Green Initiatives Fund committee," said Nick Hennessy, sustainability coordinator at BGSU. "It was a very popular project that was approved quickly and unanimously for reasons that included payback and emissions reductions. As a result, the Green Fund covered half the project's cost."
Matt Rubel, coordinator of energy management at BGSU, led the project. "The original lighting wasn't the greatest," said Rubel. "We wanted to improve light quality, increase foot-candles, and also save energy. Our rep knew we wanted LED but couldn't afford the traditional high-bay LED. We almost had the project kicked off with T5s but when Cree came out with the new CXB Series high bay, it was really a no-brainer."
Cree announced the CXB series LED high bay in early 2014. The product looks like a traditional MH high bay fixture and at 230W can replace a 400W HID product with efficacy of 100 lm/W. At the product launch, Cree said the CXB would be price competitive with legacy MH or fluorescent products. Rubel said, "It was a little more money to go with LED but it was the same payback, a lot better light, and hardly any maintenance, especially with Cree's great 10-year warranty."
Maintenance was a critical issue for Rubel. The university had installed brand new artificial turf, and could not use traditional lifts to change lamps. So the expectation of little to no maintenance on the LED lighting was a factor in the choice made.
Still, it's the light quality and energy savings that are the greatest benefit and additional energy savings are coming in an unanticipated manner. "Now with instant-on, the lights are off a lot of the time when they aren't in use as opposed to before," said Hennessy. "Because of the necessary warm-up process with the previous lights, lights would remain on between events, even when the facility wasn't in use. That just created more waste. Now it's so easy to shut the lights on and off."
The university expects the project to achieve payback in less than two years. An $8900 rebate from American Municipal Power played a part in that projection. The school expects to derive more than $200,000 in savings over the life of the fixtures.
And the results of the project are delivering in terms of the desired light quality. "We were basically looking for an even light," said Rubel. "The metal halides gave us a lot of hot spots and cool spots. So even when the old light fixtures were on, it was very dim in certain areas. We wanted something a lot more uniform as well as a certain foot-candle level in the space to meet NCAA requirements."
LED lighting is increasingly finding use in college and university athletic venues. Last year, we covered a GE Lighting project at the Boston University indoor Track and Tennis Center. And there are outdoor projects as well, such as the Ephesus SSL installed at Duke University's field hockey venue.