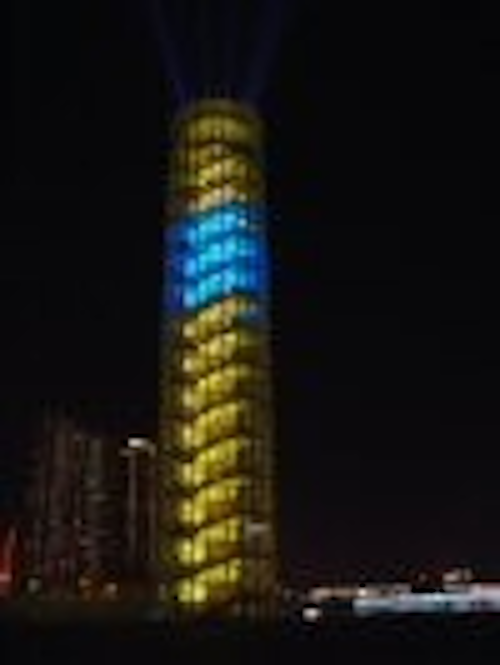 TIR Systems has supplied products from its Destiny series to illuminate the 52 meter (170 feet) high Full Moon Tower at Galaxy Park, a leisure park in Tianjin, a port city of over 10 million people located approximately 200 km south east of Beijing.
TIR's Destiny CW and Destiny DL solid-state luminaires are part of a computer-programmed colour-controlled animated lighting show which plays nightly in Galaxy Park. TIR also supplied the control system, along with commissioning and programming services to ensure the success of the installation.
Artistic License of the UK supplied its Colour-Tramp lighting control system, specifically designed to handle the complexity of two and three dimensional lighting arrays, to the project.
City officials consider this project to be a key element in increasing Tianjin's profile within China in the ramp-up to the 2008 Olympic Games.
Elsewhere in China, TIR supplied its Light Pipe product as a key feature in the exterior lighting of the Azia Center in Shanghai. The facade lighting of the tower, consisting of two vertical runs of light pipe, was designed by the global lighting design firm Brandston Partnership Inc. of New York City.
With a number of prestigious projects already delivered in Asia, including the landmark Kuo Hua Insurance Building in Taipei, TIR considers Asia a key market that will allow the company to successfully implement its global strategy for solid-state lighting.
Architecture in Asia leads the world in the use of colour and dynamic colour changing light as a design element and is adopting new building technologies into plans.
"These projects demonstrate the market acceptance of TIR's products in the competitive high-value greater China market," said Darren Luce, VP Global Sales, Commercial/Industrial Markets. "These two projects will now serve as TIR showcases in mainland China, acting as reference points to demonstrate the company's strengths."
In the short term, TIR may be a victim of its own success. "Fiscal 2005 will remain a challenging year for TIR as we transition to a broader product range," said Leonard Hordyk, president & CEO. "As a consequence of initiating delivery of this new line and meeting increased customer demand, near-term gross margins will be lower than anticipated throughout the first half of fiscal 2005. As a result, our average gross margins for fiscal 2005 may fall below our previously announced range of 35 - 40%."