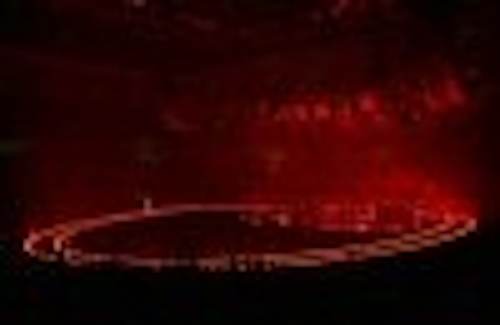 Saco has provided Clear Channel Entertainment, a leading producer and marketer of live entertainment events, with Saco's newly designed high-brightness RGB lighting products, which are marketed through its Illumivision subsidiary.
Custom spotlights, designed in a unique and special shape and containing thousands of high-brightness multi-colored LEDs, are used throughout the concert venue to cast beams of light down onto the stage.
The entire border of the stage is embedded with 3,500 high-brightness RGB pixels and has over 300 lumens of light output per unit for a total of over 1 million lumens. The border runs around the whole circumference of the stage illuminating its entirety; as well as providing lighting effects, the technology can be addressed with a high-speed real-time video signal.
The company first worked with U2 on their Popmart tour back in 1997, which marked the first time that LEDs were used to provide full motion video on a large-format video display. The 50 x 150 foot screen traveled around the world with U2, providing superior high color intensity, video graphics capability and linearity. .
"It has been a pleasure to work with the creative team behind the U2 tour," said Fred Jalbout, president of Saco Technologies Inc. "Once again, we have brought their imagination to life by creating ground breaking custom designed products that represent their innovative vision."
Based in Montreal, Quebec, Saco Technologies Inc. is a pioneer in the design and manufacture of large-format LED video display systems, and now has a thriving lighting division, Illumivision.