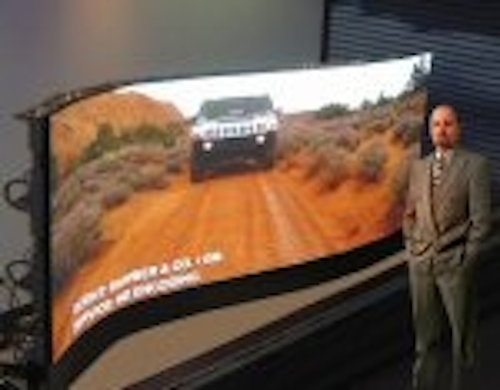 In a world first in the LED video screen market, a UK company has taken delivery of the first Toshiba TechnoRainbow 6 mm pitch LED video wall to offer curvability.
The next-generation LED videowall, which can be configured in both convex and concave curves, has been supplied to Anna Valley Displays, a Shooting Partners company, which supplies rental equipment to the broadcast, corporate and entertainment industries.
"This order, the first in the world for this product, represents a massive leap in the mechanical elements of LED design," said Jon Perkins, representing Toshiba. "Coupled with Toshiba's established reputation for unparalleled image quality and uniformity, this has raised the bar at the high-performance, high-resolution end of the LED market."
The displays are supplied in 64 x 64 pixel square modules with dimensions of 384 mm (15.12 inches), and a weight of 9 kg (just under 20 pounds) and a depth of 160 mm (6.3 inches). The calibrated brightness is 2400 cd/m2 and the maximum power consumption is 230 W.
The modules themselves are actually flat, but can be joined to in such a way as to provide a curvature of up to 20 degrees concave or 10 degrees convex. The minimum radius of curvature is 1.1 m (3.61 feet) concave and 2.2 m (7.22 ft) convex.
Phil White, managing director of Shooting Partners Group, said "Anna Valley Displays has always been at the forefront of the display business and the introduction of the Toshiba 6mm LED videowall that gives the flexibility of a curved configuration combined with beautifully sharp pictures will give set designers and productions who rent it a whole new dimension to their design."
The TechnoRainbow line of high performance LED displays is designed and manufactured by Toshiba Transport Engineering, Inc, a wholly owned subsidiary of Toshiba Corporation.