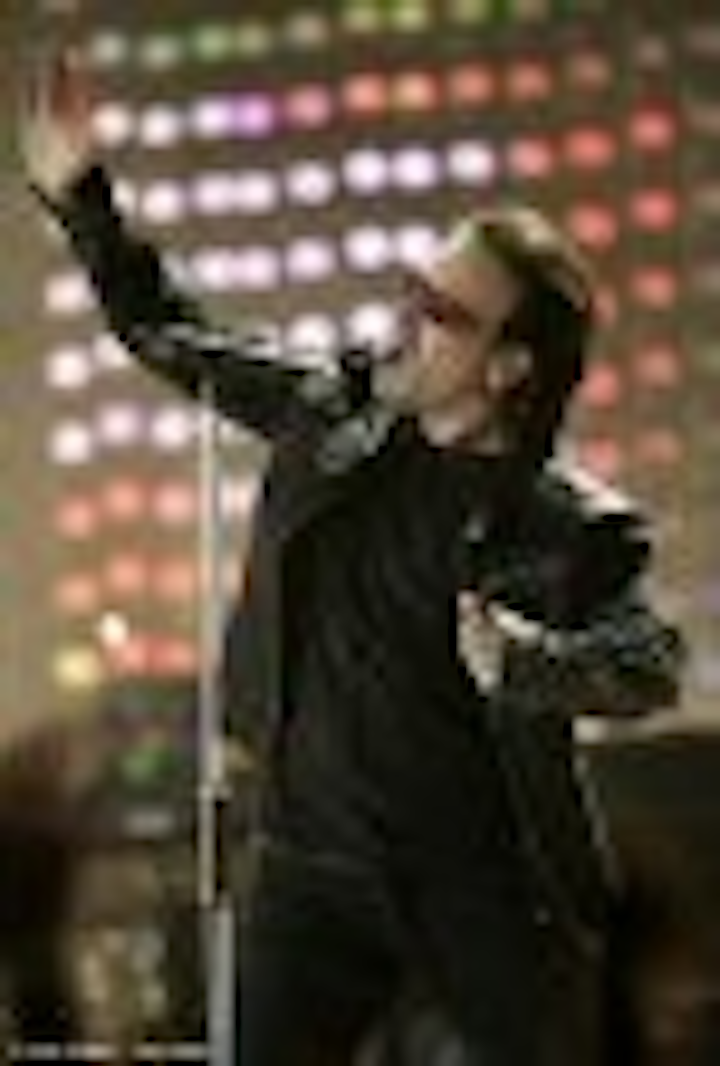 When U2's much anticipated "Vertigo" tour kicked off in San Diego, USA recently, thousands of fans were impressed by the spectacular LED backdrop created by Belgian display manufacturer Barco and its partners Innovative Designs and XL Video.
The most striking visual element of the show was created by a tiny, plastic-encased LED spherical module called "MiSPHERE". Designed and developed by Barco at its R&D headquarters in Belgium especially for the Vertigo tour, the MiSPHERE takes the use of LED technology in the concert & staging market to a new level.
With 360-degree viewing angles, opaque, light-diffusing casing and ability to play both full video & data, the MiSPHERE bridges the gap between existing video and lighting products.
Individual MiSPHERES are daisy-chained into a string, with several strings in turn forming a 3-D visualization curtain. Each MiSPHERE acts as a pixel within the curtain, making it possible to display images and simulate lighting effects across the entire curtain, while also achieving a "look-through" effect and "multiple angle" viewing-effect for the audience all around the scene.
The MiSPHERE strings are hung high above the center stage, each with a total length of 9 meters and containing 64 spheres. A total of 189 strings (containing over 12,000 spheres) together form seven 3-D curtains, allowing fans on all sides of the stage to have a perfect view of the images and content displayed on the curtain above the band. The digital curtain is retracted and lowered throughout the show as needed.
The many other visualization aspects of the show, including video-driven LED projection units, are controlled by Barco's Folsom Encore system.
"Designing, producing and delivering a revolutionary product such as the MiSPHERE in less than 6 months confirms Barco's commitment to driving technological advances within the rental & staging industries," says Stephan Paridaen, President of Barco's Media & Entertainment division. "Together with our rental partner XL Video and creative partner Innovative Designs, we helped realize the creative aspects of a show that will wow millions of fans at concerts across the world over the coming year."