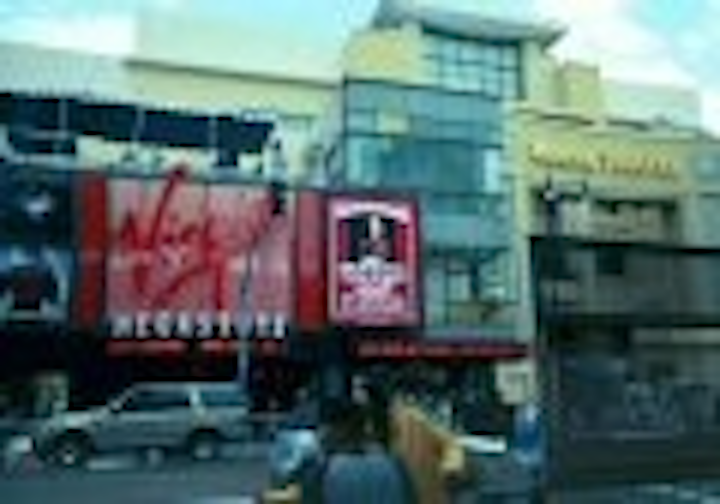 Barco named manufacturer of the year at annual AV awards
Barco has received the Manufacturer of the Year Award at the 2005 AV Awards ceremony. Barco collected the very prestigious award for its work, in conjunction with Innovative Design and rental partner XL Video, in designing and creating the MISPHERE LED modules for U2's Vertigo Tour.
The MISPHERE modules were only one of the Barco solutions on tour with U2; XL Video also provided over 540 square meters of LED video wall (OLite 510), 4 DLPTM projectors and 6 LCD projection systems.
For more information, see Barco breaks the mould with new innovative LED display products.
Daktronics provides display for Hollywood Virgin
Daktronics has supplied a 275-square-foot ProStar® LED video display to the new Virgin Megastore flagship location in Hollywood, California.
The 16 mm pixel pitch display is the largest LED sign on Hollywood Boulevard and prominently plays a 60 minute program wheel of music, movie, games and consumer electronics advertising along with Virgin branded content.
A 77-foot long, 20 mm red LED ticker display complements the ProStar® technology and wraps the storefront with branded content, in-store concerts, signings, or promotional events for Virgin Megastore patrons.
Virgin Entertainment Group is also teaming with Daktronics to help refurbish their landmark Times Square Virgin Megastore with new LED signage that is scheduled to be operational by November 1.
HSL Buys Soft-LED for X-Factor
Leading UK lighting rental house HSL Productions has invested in 150 square metres of Main Light Industry's Soft-LED LED drape.
The product is already being used on Fremantle Media's new "X-Factor" television series, being recorded at Fountain Studios and broadcast on ITV.
SoftLED is a highly flexible high resolution surface that's ideal for full colour graphics, text and high resolution video effects of all types. The 2.5m wide by 10m high modules purchased by HSL are highly flexible and can be used in all types of venues and situations from hotel rooms to concert venues and arenas.
In addition to the 6 Soft-LED cloths, HSL has also purchased 180 I-Color tiles made by Color Kinetics. These tiles are also employed on X-Factor under the perspex stage floor, receiving high resolution video from Pixel Mad.