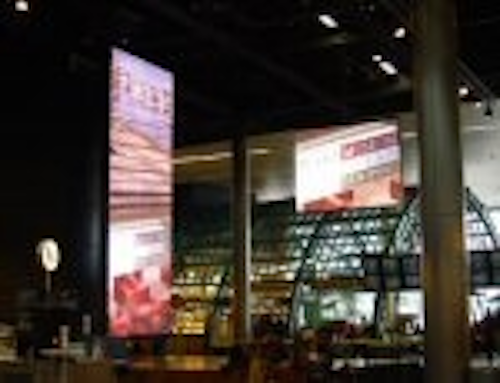 Dynamic LED signage systems are becoming increasingly popular in international airports. Their uses are many-fold and provide a perfect platform for both passenger information and advertising. One of the latest locations to benefit from such an installation is Lounge 1 departure hall at Schiphol Airport in Amsterdam, The Netherlands.
Installed by systems integrator Hecla Professional Audio & Video Specialists, two Lighthouse 10mm LED screens, one measuring 2.56m(w) x 6.72m(h), the other 2.56m(w) x 1.92m(h) are flown above a pool of water in the centre of the lounge.
"We chose these screens because of their perfect pixel pitch for this application, reliability, and their IP-65 water resistant front rating, as they are above water and need to meet with stringent safety regulations," explains Peter Slütter of Hecla. "M4 Technology [Lighthouse's proprietary uniformity control system] is also a very important factor, because we are managing the screen and its content remotely."
Another Dutch company, Lukkien, provides the "narrowcast" content, targeting specific groups of people with centrally controlled audiovisual messages in order to maximize effect and impact.
"The Lighthouse screen is big and impressive," continues Slütter. "It has a long lifespan [typically over 50,000 hours] and is able to perform in normal daylight conditions." This is another advantage in an environment that can have very high ambient light levels. However, the brightness can also be turned down as and when necessary, giving much greater flexibility than traditional advertising mediums.
"The combination of flexibility, durability and reliability of our screens makes them ideal for airport installations," comments Lighthouse's Director of Sales - Western and Central Europe, Michiel Hettinga, who has worked closely with Hecla during the project. "This type of system not only provides entertainment and information for airport customers, but it can give a very quick return on investment through advertising revenue."
Lighthouse panels used for charity concert
An AV rental company, The Picture Works, donated the use of 70 panels of Lighthouse 16mm LED screen to help stage the Tsunami Relief Concert at the Millennium Stadium in Cardiff, UK.
Each of the widescreen displays, positioned stage left and right, measured approximately 7m wide x 4m high. "The Lighthouse 16mm product is high resolution and very bright making it perfect for this sort of event," explains The Picture Works' director, Robin Wealleans. "It is reliable and fits together easily and as we had two days to set up the screens but only two hours to take them out, this was a huge advantage for us."
Performers at the event, which raised over GBP1.4 million, included Eric Clapton, Jools Holland, The Manic Street Preachers, Feeder, Kelly Jones, and Charlotte Church.