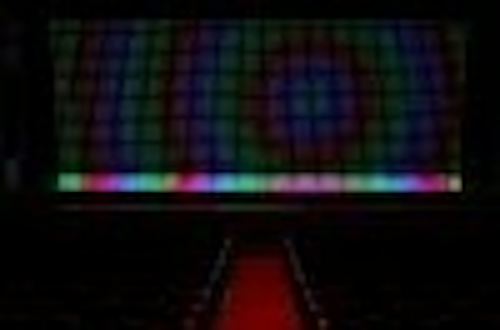 Color Kinetics and Main Light Industries have announced the increasingly widespread use of Main Light's Soft-LED™ - an intelligent LED-based drapery that combines Color Kinetics' advanced solid-state lighting technology and control systems with Main Light's expertise in stage lighting environments.
Since its launch in June 2004, Soft-LED has brought colorful, dynamic effects to the concert tours of Green Day, No Doubt, Marilyn Manson, R. Kelly, and Jay-Z, among others. This summer it will enhance stage environments for the concert tours of Green Day, Elton John, Maroon 5, Kylie Minogue, and Destiny's Child.
Soft-LED applies Color Kinetics' Chromasic™ technology and is supported by Color Kinetics' advanced, Ethernet-based control and authoring systems, Light System Manager and Video System Manager, which scale to enable complex installations that may exceed thousands of individually controlled LED nodes. Lightweight and easy to install, Soft-LED reduces the cost and complexity typically associated with traditional, large-scale video and lighting backdrops.
"We anticipated a strong reception for Soft-LED, but its traction to date has been remarkable, particularly in the touring market where durability and simple installation are key requirements," said Aidas Gimbutas, president of Main Light. "We have an ideal partner in Color Kinetics, whose technology and expertise underlie the system and clearly set it apart. We look forward to carrying this positive momentum forward."
"The rapid market adoption of Soft-LED speaks to its ease of use, flexible design and advanced control, in which Chromasic plays an integral role," said Bill Sims, president and COO of Color Kinetics. "We are very pleased to collaborate with Main Light and demonstrate the far-reaching advantages of intelligent solid-state lighting, while extending the reach of our technology in the touring and event production markets."
Light draperies are comprised of points of light that collectively form dynamic visuals and backdrops for wide-ranging venues, including theaters, tradeshows, casinos, theme parks, concerts and corporate events.
Color Kinetics and Main Light announced an OEM relationship in May 2004 to apply Color Kinetics' Chromasic technology for the development of Soft-LED. Chromasic is a custom designed microchip that uniquely allows precise control of individual LED nodes, making Soft-LED a flexible medium with which to display video, animations, and intricately designed lighting effects.