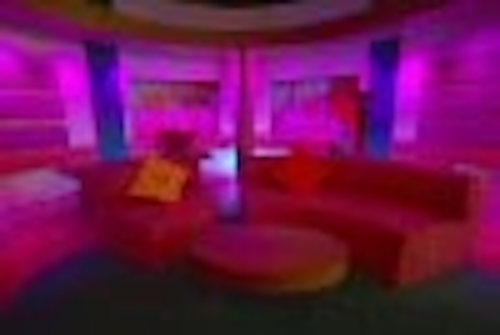 Over 600 lighting designers, architects, engineers and suppliers at London's Royal Lancaster Hotel on 10 March witnessed the presentation of the 2005 Lighting Design Awards, which are organized by Lighting Equipment News magazine and the Institution of Lighting Engineers.
Many of the shortlisted projects used LEDs as one element of the lighting scheme. Among those where LEDs were the primary focus are:
SPECIAL PROJECTSWinner: GMTV Set, London
Luminarie supplier:
i-Vision
Lighting Design: John Allard, GMTV
Lighting Systems Design: Luke Dodd, iVision
In a first for British television, GMTV last year changed the lighting at its studio to colour-changing LEDs, at a stroke cutting energy use for lighting by over 60 per cent and reducing the temperature to more comfortable levels. The change was made possible by iVision's Lumos Drive 36, which pulses the LEDs at 2.5-4.0 kHz rather than 50-60 Hz, which would create flicker on the TV image.
Colour-changing downlighters, birdies and strips create unique colour hints and identities for different sections of the programme. The LED installation is backed up by fluorescent fittings for general and backlighting.
The judges praised GMTV's "brave" decision to switch to LEDs with a lead time from specification to completion of only three and half weeks, and were impressed by the "remarkable gains in energy efficiency" that the LEDs had delivered while giving the studios more flexibility. The scheme is expected to pay for itself in 39 weeks.
Commended: The Garden of Light, Hampton Court Flower Show
LED luminaire supplier:
TridonicAtco
Lighting Design: Jonathan Gittins and Torunn Saksvikrønning
"Highly innovative thinking" was the hallmark of this courtyard garden at last summer's show, which was lit with TridonicAtco's red, green and blue powerLED light sources. Some 52 spotlight fittings made from simple enclosures with acrylic discs were secreted amongst the plants and these are supplemented by illuminated light boxes at each end of the garden and an illuminated table at its centre.
"It was important that visitors should see the effects of the light itself and not be distracted by the fittings," said Jonathan Gittins. "In using LEDs we were able to achieve a colour changing effect in much smaller fittings than would have been possible with other light sources."
INNOVATIONS: EXTERNAL LUMINAIRESWinner: SAS600
from
Solagen
Efficient components and power management are the keys to the success of this solar-powered, speed-activated sign. The control gear draws an average of only 37mW, and at night the LEDs produce 200 cd/m
2
with just 0.4W. At their brightest, the LEDs produce 12,000 cd/m
2
using 4W. The sign meets the UK Highways Agency's optical performance demands for motorway variable message signs – including luminance, luminance ratio, beam width, uniformity and colour spectrum.
Its specially designed microwave detector draws only 100mW – a typical model consumes around 2W – and the batteries and control gear fit into the wide part of the lighting column. The entire package is managed by a micro-controller that monitors battery level to control the charging circuit, the brightness of the sign and the detector. "It uses lighting technology in a thoughtful and innovative way," concluded the judges.
PROJECTS: EXTERIORCommended: Plantation Lane, City of London
LED luminaires:
Color Kinetics
Major suppliers:
Lighting Technology Projects (LTP)
, Zumtobel
Lighting Design and Architecture: Arup Associates with artist Simon Patterson A giant screen 41 metres long and 6 metres high dominates this central London alleyway. The screen, and its huge image of the Moon's surface, is internally lit by 102 Color Kinetics ColorBlast 12 RGB LED fixtures. Controls continually adjust the colour of the screen lights, and careful selection of luminaires and glass ensures even illumination of the screen.
PROJECTS: TRANSPORT
Highly Commended: Avenue Road Car Park, Bournemouth
Lighting Designer: Urban Projects
Architect: Bell and Associates
A striking steel and aluminium structure is the visible face of this refurbished car park. Linear colour-changing LED fittings wash the inside surfaces of the perforated facade. The scheme, championed by owner APCOA Parking (UK), is environmentally friendly – the 11,220 LEDs use only 750W. "Colour-change technology is often misused," said the judges, "here it adds tremendously to the space and creates a strong identity with lots of visual interest."