Focus on: Entertainment lighting at PLASA 2011 (MAGAZINE)
PLASA, the annual tradeshow for event, installation and entertainment technology, took place on September 11-14, 2011 at Earls Court in London, UK. TIM WHITAKER reports.
Oct 20th, 2011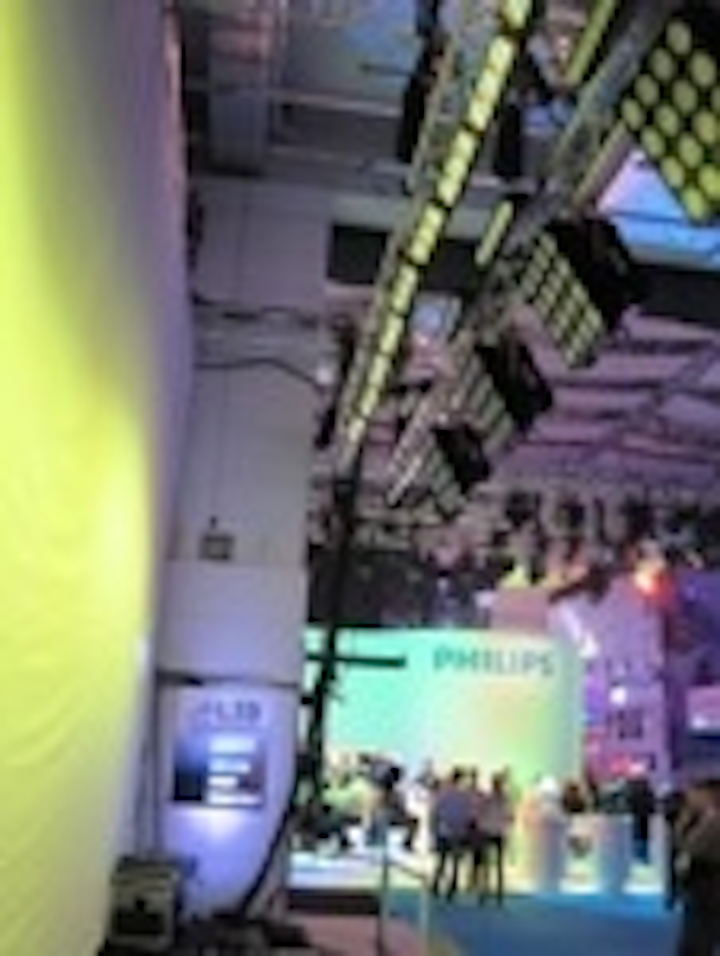 One novel feature at this year's PLASA was the LED Shootout hosted by the Society of Television Lighting and Design (STLD, www.stld.org.uk), which attempted to answer the question: "Can you light a TV set entirely with LED fixtures?" Twenty-three manufacturers submitted 83 different LED products, which were assessed and compared in various scenarios. LED fixtures were used to illuminate an 8-meter-wide cyclorama (pictured), where they were compared with traditional 1250W tungsten-halogen lights. In the center of STLD's stand was a mini TV studio, where attendees could get hands-on experience of lighting the studio set-up, and view the results on HD broadcast cameras. A number of case studies were also presented, notably the ITV Daybreak studio (see below).
STLD's event organizer Paul Middleton said the Shootout demonstrated "huge advances" in LED technology. "The 120W LED engines being used by a number of manufacturers are on a par with a typical 1000W Fresnel," he said. "Manufacturers are beginning to listen to the unique requirements of TV production, and are building fixtures that not only allow considerable savings in lamp power consumption, but also give reduced need for air conditioning."
However, said Middleton, manufacturers need to work on bringing down the cost of products, so power-reduction savings are not outweighed by the cost of purchase or hire. "They also need to fully reproduce all the features of controllability of beam shape and color enjoyed by current fixtures," he said. "The ideal solution for many existing studios might be to unplug an existing tungsten bulb and plug in a new LED unit. Some manufacturers are taking that type of approach by either using an existing housing and converting it to take an LED engine, or else developing new back-ends to fit onto existing industry-standard lens assemblies. Others are producing brand new types of fixtures that don't easily fit into traditional categories."
As part of the STLD LED Shootout, lighting designer Matt Carter described the revamp of a TV studio in London, UK, for a new breakfast-time show, Daybreak. "The set is lit almost entirely with LEDs," said Carter. "LEDs have been used for sets before now, but not for faces." This "quite radical" approach was not taken from a desire to use LEDs, but because the studio's unique situation made LEDs the only choice, said Carter.
The studio presenters sit in front of large windows with a view of St. Paul's Cathedral in the background. However, the windows face east, and the sun rises as the show progresses. The first task was to control ambient lighting, and this was done using SPD SmartGlass, which can be automatically altered from clear to almost opaque, controlling glare and solar heat gain.
Around 70 LED-based Selador Lustr and Vivid fixtures from ETC comprise about 95% of the studio's lighting. The fixtures are built using the x7 Color System, which utilizes arrays of 7 different colors of LEDs, and provides a huge range of control, as Carter explains: "The Seladors allow me to mix the incoming natural light with the studio lighting perfectly, and because of the range of colors the fixtures output, we know that the white balance will always be perfect. These were the only lights that we're aware of that have such impressive brightness and saturation." Carter seemed convinced that seven colors would be needed for adequate control, rather than five or less. "The red, green and blue LEDs have the largest effect, and the other four colors are very subtle," he said. Carter described a bright sunlit day when the windows were fully blue (almost opaque). When blue was dialed out of the camera picture, this returned the windows to a neutral color, but made the whole studio appear orange. Using the LED lights, Carter was able to make everything look normal on camera by reducing the red and orange content of the LED illumination and boosting the blue and cyan.
As well as providing the necessary lighting control, the LED installation has other advantages. In the old studio, the lighting rig used 120A per phase, or 360A continuously throughout the three-hour show. "Now we use just 67A for the entire rig," said Carter. "Of course, the added effect of this is less heat and less weight." One consequence is that the air conditioning can be run at much lower levels.
UK manufacturer i-Pix Ltd added to its range of entertainment lighting products with the distinctive Beamlight. Chris Ewington, CEO of i-Pix, said, "For six years we have wanted to displace the ubiquitous ACL beamlight, a regular fixture for concert touring and TV production, which typically consumes 240W, and with only a 15-hour lamp life." LED Engin's 12-die, 40W RGBW LZC enabled i-Pix to develop an LED-based replacement. Ewington said that i-Pix has produced "a new homogenized beamlight with the added benefit of being a focused device, weatherproof and capable of meeting arduous touring environments too." The Beamlight contains a custom-designed parabolic reflector mounted onto a focusing system which enables a range of beam angles from +/-35 degrees down to a tight 5-degree beam.
The Philips Selecon PL3 LED luminaire, shown above, and its PL1 counterpart, are built around the
Philips Vari-Lite VLX LED light engine
. This delivers full control of beam-color composition irrespective of intensity, says Philips. The PL1 and PL3 focusing luminaires feature an adjustable beam spread of 15-55 degrees, smooth color mixing and stepless fades. Meanwhile, the Philips VariLite VLX3 Wash contains replaceable 120W RGBW LED chipsets that are three times the efficacy of comparable tungsten sources.
According to Peter Rogers, Senior Director of Entertainment Marketing with Philips Lighting, most types of entertainment-lighting fixtures can now be readily produced with LEDs. One exception is the framing spotlight. "A few manufacturers have produced the first LED-based versions of the framing spotlight, but none of them have achieved the performance of the traditional luminaires they would need to replace. Considerable research is going on from all major manufacturers, and we anticipate more progress early next year."
Among the eight winners of the PLASA Awards for Innovation was Martin Professional's new
MAC Aura luminaire
, a compact LED moving-head wash light with zoom that provides, in the judges' words, "eye candy - we've never see it before." The optical system combines multicolor beam LEDs and a backlight LED lens array to produce a visual palette that takes the synthetic look out of LED wash lights for unique lighting-design possibilities, says Martin.
UK-based GDS won PLASA awards for its ArcSystem of LED auditorium-lighting fixtures. The judges felt the system "will have a significant impact on the carbon footprint of the buildings it is utilized in, and provides an elegant replacement house-light system." The photo shows 1-cell and 8-cell ArcSystem fixtures, which are available in 19-, 24- and 37-degree beam angles and with a range of color temperatures (2700K, 3000K, 4100K). The fixtures contain Bridgelux LED arrays, and the CRI is listed as over 92. The 150W 8-cell fixture has a light output of 10,000 lm.
Many PLASA exhibitors are lighting-fixture manufacturers, and the only LED maker in evidence was US-based LED Engin, a specialist in making compact and powerful LED arrays of the type desired for many fixture types in this market. At the show, LED Engin announced
two proprietary lenses
; an 8-degree narrow spot lens and a 15-degree spot lens, designed for use with the company's compact, high-flux-density LZC (12-die) and LZP (24-die) LuxiGen emitters, respectively.
LED Engin was also able to showcase a number of design wins with companies exhibiting at PLASA. For example, 4-die LuxiGen RGBW LEDs are used in the P5 wash-light from SGM, which comprises an array of 44 LEDs with Khatod optics. Also, Martin has used the 4-die (10W) flat-top CW/WW LED in its MAC 401CT white-light moving-head wash fixture. Each package contains two warm-white and two daylight-white LEDs in a 7.0x7.0x1.1-mm footprint.
The Aledin 330LF LED Wash from Robert Juliat complements the Aledin 630 Profile, which was introduced last year, and both are based on the same 85W LED light source. Robert Juliat's sales director Lionel Garraud said: "The feedback we are receiving is that customers find the Aledin wash a very powerful LED product which is easy to daisy chain and produces a clean, even beam. The dimming is very smooth with no stepping, its strobe feature is useful for concert lighting and the choice of color temperature [3500K and 5800K] lends itself well to exhibition work."
Among the many LED-based products introduced by Robe was the Robin 600 PureWhite, containing 37 Cree MC-E multi-chip LEDs. The Smart White (SW) version (left) has variable color temperature from 2800–6300K. Robe also introduced the Robin 1200 LEDWash containing 61 multichip RGBW LEDs in 4 concentric rings.