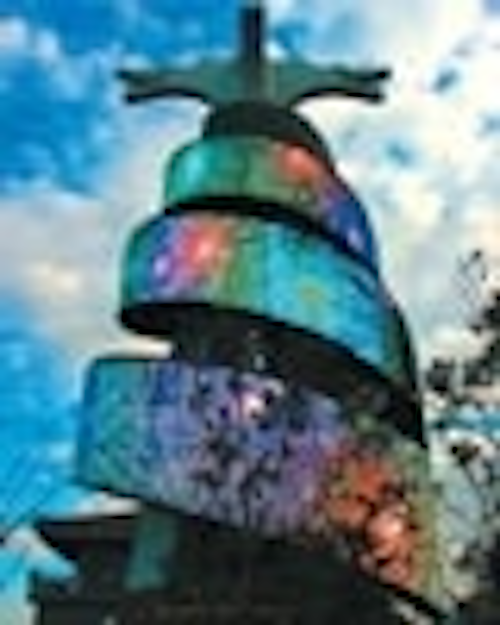 The Dragon Tower on Enoshima Island, Japan, is a formidable LED sculpture where the convergence of fire, water, and pixel power have joined with the spirit of Japanese dragon mythology. A symbolic dragon body has been created with a set of matching spiral LED video screens that completely encircle a 40 ft tower. Designed as an audio-visual entertainment attraction, the Dragon Tower presents a 20 minute video show on its screens, synchronized with a water fountain show, and reaches a spectacular conclusion as the two dragon heads erupt in a fire-breathing finale.
"The video entertainment attraction was commissioned by Enoshima Spa and Resort, who wanted an attraction to draw tourists and local-area residents to visit the island and the resort," explained architect Kilhak Kunimoto of Kunimoto Architect Group, Atlanta, Georgia.
The tower design called for two matching LED video screens in the shape of a double helix. The task was undertaken by Optec Displays, an LED sign manufacturer based in City of Industry, California.
+++++++
To read the rest of this article, please register for a free subscription to LEDs Magazine Review.
Why?
Existing subscribers:Click here to enter your reader number and download the new issue.