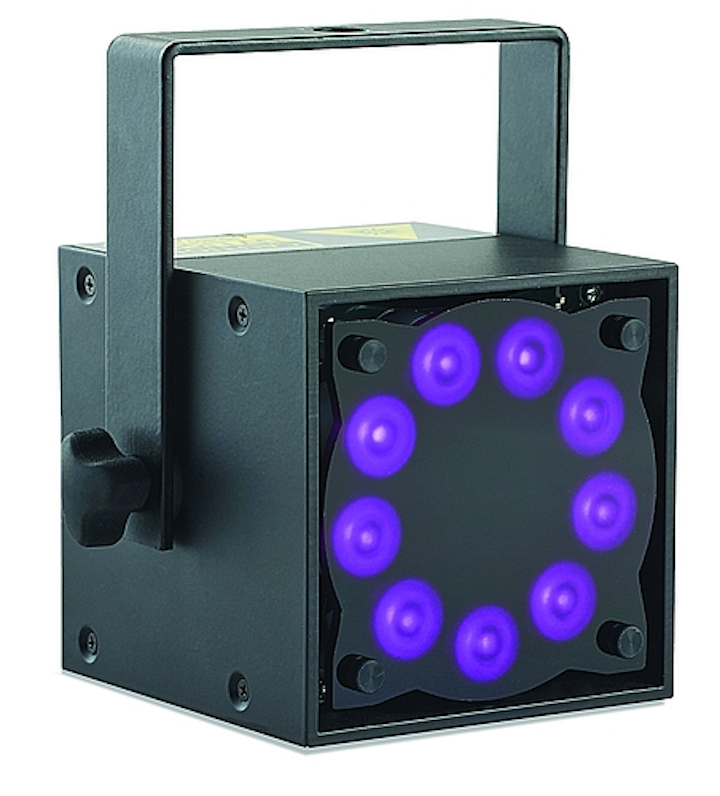 Technological advancements abound in Rosco's newest LED offering

(Stamford, CT) -- Rosco Laboratories, a global leader in lighting and color technologies for the film, television, entertainment and architecture industries, proudly introduces the next generation of its popular Miro Cube UV LED entertainment luminaire, the Miro Cube UV365. Developed by Rosco's design partner, The Black Tank, and Rosco's Product Manager for LED Systems, Jack Burwick, Miro Cube UV365 builds upon the success of its predecessor while adding several key new features to continue to provide optimum quality and value.
Interested in more articles & announcements on LED entertainment lighting?

"The Miro Cube UV365 LED fixture represents the forefront of UV lighting", said Burwick. "It's important to us to create the highest quality light possible, and the Miro Cube UV365 does just that while maintaining the original form factor and functionality that so many Rosco customers appreciate. This fixture is perfect for theme parks, museums, cruise ships, theaters and night clubs where a high quality black light is needed to make fluorescent costumes and scenery pop."

The Miro Cube UV365 LED entertainment luminaire features the latest generation LEDs tuned to 365nm, eliminating any visible light emission, and falling squarely into what is known as the true UV spectrum. In addition, The Black Tank designed a custom front lens which maximizes the output/intensity of the fixture. The combination of new LEDs and a custom glass lens results in a 60% increase in output over the original Miro Cube UV. With its increased output, the Miro Cube UV 365 is the smallest, most powerful UV LED entertainment luminaire in its class!

Other features of Miro Cube UV365 include:
· Unique patented (US Patent No. 8,767,398) heat management system packs the most lumens into the smallest form factor
· No expensive power supply or ballasts - direct to mains power 90-240VAC 50/60 Hz
· Over 40 luminaires on a single 20A circuit, plus flicker-free dimming in 8 or 16 bit resolution
· Easily installed on standard line-voltage lighting track with optional yoke assembly, including full DMX track options
· 10 degree narrow beam optic included with the fixture. Optional 22 degree wide angle optic available as an accessory
· Modular design easily configures in strips and arrays for maximum versatility
· Novel "filament fade" feature mimics the delayed blackout glow of incandescent fixtures

Miro Cube UV365 is available now through Rosco's dealer network.

About Rosco
Founded in 1910, Rosco is a leader in products for the architecture, entertainment, film & television, and photography industries. Best known for lighting filters, the company offers product lines in more than a dozen categories, including LED fixtures, dichroic glass filters, lighting effects equipment, fog and haze machines, flooring, green & blue screen paint and backdrops for film, television and broadcast. Rosco has been recognized with four Academy Awards® for the development of innovative products and systems for the production of feature films. Headquartered in Stamford, CT, Rosco maintains fully staffed businesses in Australia, Brazil, Canada, Spain and the United Kingdom.
Contact:
Daniel Carpenter, Marketing Manager - Rosco Laboratories
+1.203.541.5215

Web site:

Locate more LED entertainment lighting vendors in the LEDs Magazine Suppliers Directory

Submit new products, case studies/projects, and other press releases at http://www.ledsmagazine.com/content/leds/en/addcontent.html.

More from Rosco:
Black Tank receives patent for LED heat sink technology used in Rosco's compact LED luminaires