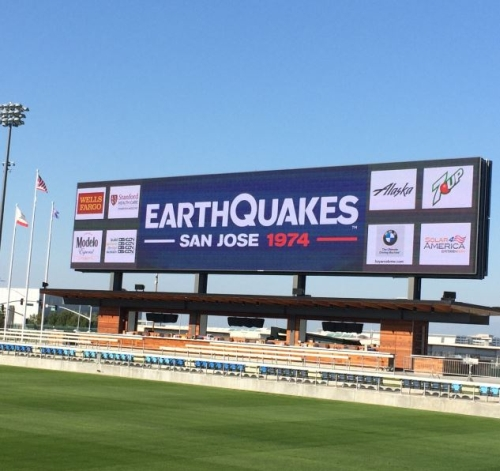 Large LED video scoreboard and additional displays installed at new stadium

BROOKINGS, S.D. – The San Jose Earthquakes are aiming to maximize the game-day experience at their new stadium in Santa Clara, California, with the installation of LED video displays designed, manufactured and installed by Daktronics (NASDAQ-DAKT) of Brookings, South Dakota. The main display features a 13HD pixel layout to provide fans with superior image clarity and contrast of live video and graphics.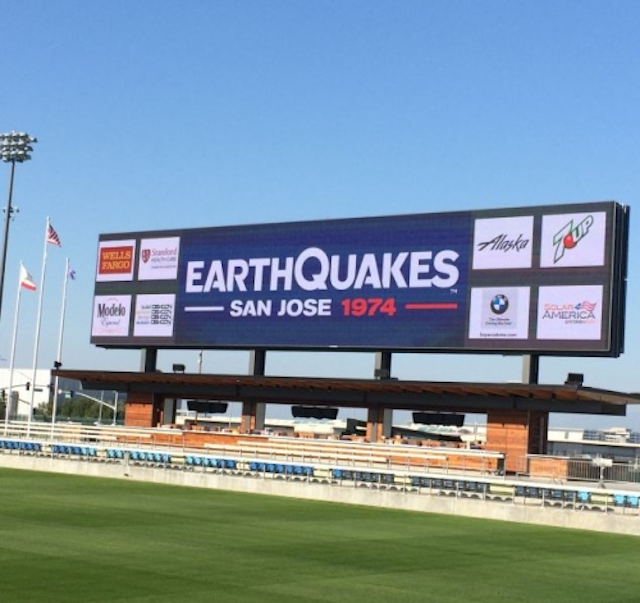 Daktronics LED displays shake up San Jose Earthquakes soccer fan experience

"From the start, Daktronics has been a great technology partner," said Earthquakes President Dave Kaval. "They share our vision of creating a great fan experience through the video displays around the stadium. With our main scoreboard, backside video board and ribbon LED boards, we have the most video display square footage of any MLS venue. We couldn't be more excited to launch our stadium with these Daktronics products."

The new display measures approximately 24 feet high by more than 120 feet wide and is capable of showing one large image to highlight live video and instant replays. It can also be divided into separate windows to show a variety of vivid graphics, colorful animations, up-to-the-minute statistics, scoring information and sponsor advertisements.

An additional video display was installed on the back side of the main display facing outside the seating bowl to help enhance the overall fan experience as they arrive at the stadium. It measures 24 feet high by 44 feet wide and also features a 13HD pixel layout. Two ribbon displays featuring 20 millimeter line spacing are installed along the seating fascia. One ribbon display measures more than 2 feet high by 982 feet long and the other measures roughly 4.5 feet high by 150 feet long. These displays will provide the opportunity to showcase sponsors throughout events as well as providing additional statistics and other game information.

Daktronics also provided its powerful Show Control system with this installation. This industry-leading system provides a combination of display control software, world-class video processing, data integration and playback hardware that forms a user-friendly production solution. For more information on Show Control, visit www.daktronics.com/show.

"We appreciate the opportunity to continue to partner with the San Jose Earthquakes as they move to their new stadium," said Robin Hall, large sports venues region manager. "The large video display and fascia will provide a wonderful fan experience on game day. Having worked with the Earthquakes in the past, we will continue to work hard to provide quality and service, and we wish them the best in the new facility."

In addition to the equipment installation, the team also receives a bank of hours for the creation of digital content that will be produced and delivered by Daktronics Creative Services at the Earthquakes' request.

Daktronics LED video and messaging display technology offers a long lifetime with minimal maintenance and low power consumption, providing value and excitement for years to come.

About San Jose Earthquakes
The San Jose Earthquakes are one of 21 teams in Major League Soccer. The club won MLS Cups in 2001 and 2003 and took home Supporters' Shields in 2005 and 2012. They are led by 2012 Volkswagen MLS Most Valuable Player Chris Wondolowski, one of the most prolific goal scorers in league history. The club is currently constructing a new 18,000-seat stadium on Coleman Avenue, adjacent to the San Jose International Airport. The organization was one of 10 charter members of Major League Soccer when the league began in 1996. The club's non-profit arm, the San Jose Earthquakes Community Fund, focuses on health and fitness initiatives for underserved youth in the Bay Area. For more information about the Earthquakes, log on to www.sjearthquakes.com.

About Daktronics
Daktronics helps its customers to impact their audiences throughout the world with large-format LED video displays, message displays, scoreboards, digital billboards and control systems in sport, business and transportation applications. Founded in 1968 as a USA-based manufacturing company, Daktronics has grown into the world leader in audio-visual systems and implementation with offices around the globe. Discover more at www.daktronics.com.

SAFE HARBOR STATEMENT
Cautionary Notice: In addition to statements of historical fact, this news release contains forward-looking statements within the meaning of the Private Securities Litigation Reform Act of 1995 and is intended to enjoy the protection of that Act. These forward-looking statements reflect the Company's expectations or beliefs concerning future events. The Company cautions that these and similar statements involve risk and uncertainties which could cause actual results to differ materially from our expectations, including, but not limited to, changes in economic and market conditions, management of growth, timing and magnitude of future contracts, fluctuations in margins, the introduction of new products and technology, the impact of adverse weather conditions and other risks noted in the Company's SEC filings, including its Annual Report on Form 10-K for its 2014 fiscal year. Forward-looking statements are made in the context of information available as of the date stated. The Company undertakes no obligation to update or revise such statements to reflect new circumstances or unanticipated events as they occur.
Contact:

Justin Ochsner - Public Relations/Marketing
+1-605-692-0200
Web site:

www.daktronics.com

Locate more LED display vendors in the LEDs Magazine Online Suppliers Directory

Submit new products, case studies/projects, and other press releases at http://www.ledsmagazine.com/content/leds/en/addcontent.html and http://www.ledsmagazine.com/content/leds/en/iif/add.html.
More from Daktronics:
Oakland Athletics baseball organization chooses Daktronics for four new LED video displays
Fairfield University partners with Daktronics to upgrade athletic facilities with LED display equipment