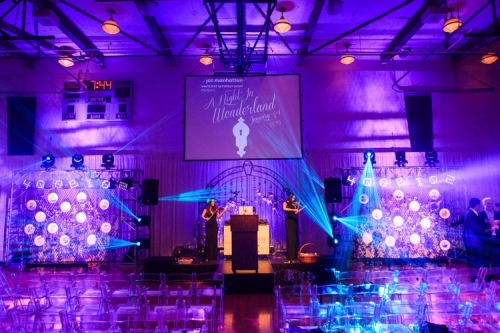 NEW YORK – In Lewis Carroll's classic Through The Looking Glass, Alice steps into a mirror to enter an incredible world where flowers talk, chess pieces come to life and characters like the Red Queen tickle the imagination with enchanting feats. The 257 guests at the JCC New York's "White Hot Night Through The Looking Glass" fundraiser didn't have to do anything nearly as dramatic as Alice to be treated to a magical evening.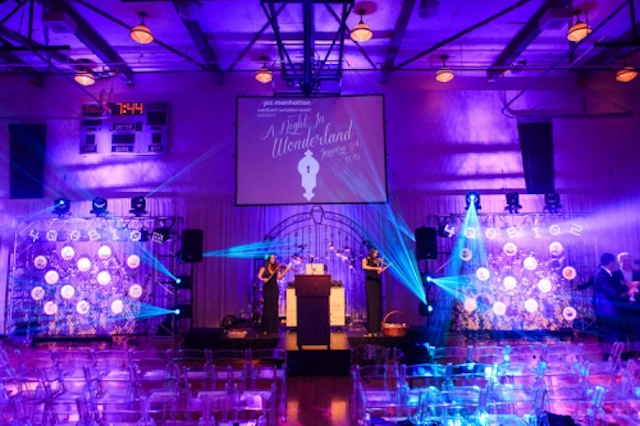 Chauvet LED panels bring Lewis Carroll's Wonderland spirit to life at NY event

They simply walked into a gym-turned-ballroom on Manhattan's upper West Side and were dazzled by a menagerie of ornamental zebras, lions and fanciful creatures not found in nature, as well as ornamental gardens, garlanded gates, glittering centrepieces and a multi-faceted lighting display created with Next NXT-1 moving LED panels from Chauvet Professional, provided by WorldStage.

Liron David, founder and CEO of Eventique, the visionary team behind the event, wanted to create a multi-dimensional experience with the lighting, separating the visitors from reality and immersing them in a surreal environment. Jeremy Jones, lighting designer for the New York City-based event company, helped him achieve this vision by using 14 Next NXT-1 LED panels, rigged seven each on two 15' goal posts that flanked the main stage to work some special lighting magic for the annual charity event.

The versatility of the moving LED panel, which features 25 pixel mappable RGBW LEDs, allowed the LD to achieve a variety of looks, from soft washes during speeches, to fanciful breakout patterns during more whimsical moments, to punchy audience lighting during dances.

"The theme for this event was 'Through The Looking Glass,' which was a very abstract and off-the-wall take on an Alice in Wonderland-ish type of adventure," he said. "The Chauvet NXT-1 was a perfect fixture for this event. I was able to have a wash fixture that has built-in pixel mapping and built-in gobo effects all in one, so the panels gave me a great bag of creative tricks. As the guests walked in, we were able to run a sequence that had random numbers and letters scrolling through the NXT-1 panels before stopping and displaying the words 'White Hot Nights,' which was the name of the event. We also had the NXT-1 panels spell out 'Donate' during the auction with a slight pan movement, which added a nice touch."

A key part of the JCC event was a charity auction. Plates used as props in the auction were hung on the two goal post structures that flanked the stage. Jones positioned the NXT-1 moving panels, as well as a collection of moving beams, on these posts to provide stage and audience lighting. The perch atop the goal posts also added impact to the text displayed on the moving LED panels.

"Having text positioned that high and moving it slightly with the panels created a special touch when we displayed words like 'Donate,'" said the LD. "Then when we used the NXT-1 units as moving washes over the dance floor we created a nightclub aura, which was great for guests who wanted to dance the night away."

Favoring blues and purples, Jones relied on the color rendering capabilities of his lighting rig to turn up the energy level on the dance floor as the evening progressed. "Near the end of the night I was also able to use these fixtures and add some movement and color effects to heighten the nightclub theme," he said.

Another visual element that enhanced the dancefloor was the intense brightness of the Next NXT-1. "This is a very intense and bright fixture," said Jones. "For most of the event I ran the NXT-1 units 20%-30%, but for the dance segments I would fluctuate between 50%-75% to pump up the crowd."

As magical as it was, the JCC event was not without its challenges. "There is no loading dock in this building," said Jones. "So every year when we do it, we have to go up four floors with our rig in a small elevator. This year since we had a huge tree to carry, we had to use the stairs too. The end result was worth it. We have a great team and were helped immensely by WorldStage, which is a very excellent vendor for us."

Thanks to teamwork, Jones and Eventique, along with WorldStage and Chauvet Professional, pulled off a magical evening -- one that undoubtedly would have made Lewis Carroll smile.

For more information on Eventique visit: www.eventique.com

For more information on WorldStage visit: www.worldstage.com

About Chauvet Professional
Chauvet Professional offers innovative professional lighting fixtures for the production and touring market as well as permanent installation in theatres, hospitality venues, cruise ships, clubs, television and architainment applications.

About Chauvet Europe
Chauvet Europe is the full service European branch of Chauvet, based in the UK. Chauvet is a leading manufacturer of professional luminaires, truss and related equipment headquartered in the USA. Chauvet products are supplied globally under four main brands: CHAUVET® DJ, CHAUVET® Professional, ILUMINARC® and TRUSST®. They share Chauvet's unified strategy to pursue every market segment where it has a competitive advantage in terms of value, innovation and performance, with an emphasis on LED technology. For more information, please visit www.chauvetlighting.co.uk.

Contact:

Adina Arhire, International Marketing Coordinator - Chauvet
+1-954-577-4498
E-mail:

Web site:

www.chauvetprofessional.co.uk

Locate more architectural, entertainment & decorative lighting vendors in the LEDs Magazine Suppliers Directory

Submit new products, case studies/projects, and other press releases at http://www.ledsmagazine.com/content/leds/en/addcontent.html and http://www.ledsmagazine.com/content/leds/en/iif/add.html.

More from Chauvet:
Visions Lighting uses Chauvet Nexus LED entertainment lighting for Invasion Del Corrido concert
Chauvet introduces ultracompact stage fixture for LED entertainment lighting