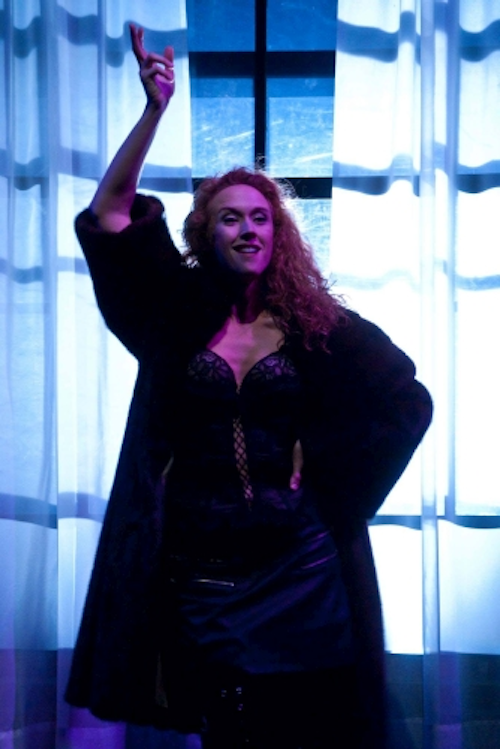 Lighting designer Elizabeth Kline showcases the dynamic LED entertainment luminaire in a collaboration between the Nevada Conservatory Theatre and Cockroach Theatre Company

Dallas, Texas – As with many productions, a theatrical lighting design can take on many different roles from the standard color washes and spots, to the more dramatic special effects to bring impactful moments to life. When CTC resident designer Elizabeth Kline was asked to create the dramatic lighting design for the Venus in Fur collaboration between the Nevada Conservatory Theatre and Cockroach Theatre Company, she needed a lighting instrument that could breathe life into the integral lightning effects in the show. So once she began her collaboration with the productions sound designer, she found the ideal lighting instrument in the Showline SL NITRO 510 LED entertainment luminaire from Philips Entertainment.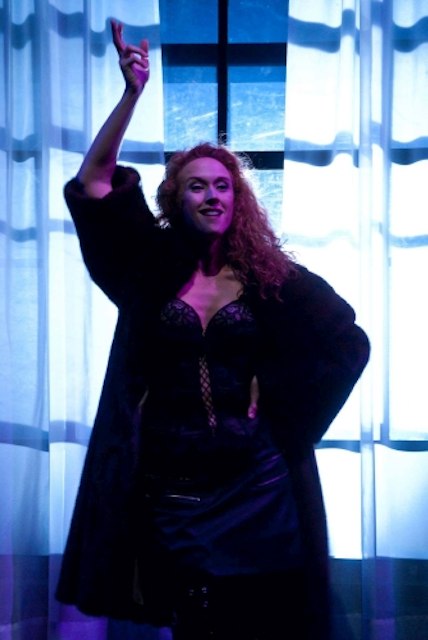 Philips Entertainment LED entertainment luminaire provides 'lightning' effects for 'Venus in Fur' performance

(Photo Credit: Jennifer Van Buskirk)

"When I came into the design meetings, the first question I asked was whether or not we would be staying true to the script in regards to all of the lightning and thunder effects," began Kline. "Since these elements are essential to the story, I started coordinating with the sound designer, and to really accentuate the effects, I needed a fixture that was capable of both quick, powerful flashes of light, but then also longer more sustained flashes as well. The Showline SL NITRO 510 luminaire was the perfect solution and it truly brought the lightning effects to life."

The Showline SL NITRO 510 is a cutting-edge, LED-based strobe that provides intense bursts of light and dynamic effects with over 1300 high-powered LEDs which produce 68,000 lumens of output. Additionally to ensure maximum performance and an even distribution of light throughout a performance, the SL NITRO 510 includes features such as continuous-on, continuous full strobe, plus a built-in quick-connect system that allows them to easily connect together in both horizontal and vertical orientations maintaining a perfect pixel pitch alignment of each fixture's six programmable zones.

Kline continued, "When we were showing the performers the world in which they would be performing, Jeanette Farmer and I began talking about the ideas I had for the lightning effects and she mentioned the SL NITRO 510 luminaire as a great option to handle what I needed it to do. As I learned more about the fixture, I felt it would be much more exciting over a traditional strobe fixture because it can do so much more than just a traditional flash."

As the production process got underway, the design team began taking a deeper look at the SL NITRO 510 LED entertainment luminaire. When they powered the fixture for the first time, they were even more surprised with its performance capabilities.

"When I first saw the SL NITRO 510, I was very impressed with how bright it was," admitted Kline. "We had them set up on a tech table, before they were hung in the rig, and we were all blown away by its sheer brightness. They are phenomenally bright. With the SL NITRO 510, the lightning really became its own character of the show. The impact it made was so powerful, and we never had any issues with them through the run of the show."

For the run of the production, Venus in Fur would have showings in both the UNLV Black Box Theatre and the Arts Square Theatre. As the home of the Cockroach Theatre Company, the Arts Square Theatre is a converted performance space that is not necessarily equipped with a traditional dimming system so some decisions had to be made about which luminaires could be used in both designs.

Kline explained further, "As we moved between the two performances spaces, the only lighting effect that was consistent between the two was the SL NITRO 510. At the UNLV Black Box Theatre, we have full dimming capabilities, but at the Arts Square Theatre power requirements are always a factor. You really have to figure out how to transition the lighting design from one space to the other without completely changing the look of the show. Since the SL NITRO 510 can operate on standard 120V power I was able to cable it into a wall outlet and it kept the essence of the show intact."

As the production of Venus in Fur came to an end, Kline was even more impressed with the Showline SL NITRO 510 LED entertainment luminaire, and she is quick to answer why she feels other lighting designers around the country should take a deeper look at the exciting LED luminaire from Philips Entertainment.

"I really love how the SL NITRO 510 has six zones of control for the individual LEDs," concluded Kline. "When using it as this type of effect, you can now actually see the lightning move across the sky. It wasn't just a static look, it had movement, and that really brought the lightning to life in a way that a traditional strobe simply could not have done. While other designers may not need this exact type of effect in their show, the SL NITRO 510 has so many capabilities, I am positive it could bring the same impact to their lighting designs."

Showline from Philips Entertainment is a complete range of LED luminaires designed for the entertainment industry providing a strong feature set and rugged construction combined with high-performance LED sources. Setting a new performance standard, all Showline luminaires are sold through the Philips Vari-Lite Dealer Network and are designed to work seamlessly together to match color, dimming and operation.

About Royal Philips Electronics
Royal Philips Electronics of the Netherlands (NYSE: PHG, AEX: PHI) is a diversified Health and Well-being company, focused on improving people's lives through timely innovations. As a world leader in healthcare, lifestyle and lighting, Philips integrates technologies and design into people-centric solutions, based on fundamental customer insights and the brand promise of "sense and simplicity". Headquartered in the Netherlands, Philips employs more than 118,000 employees in more than 60 countries worldwide. With sales of EUR 26 billion in 2008, the company is a market leader in cardiac care, acute care and home healthcare, energy efficient lighting solutions and new lighting applications, as well as lifestyle products for personal well-being and pleasure with strong leadership positions in flat TV, male shaving and grooming, portable entertainment and oral healthcare. News from Philips is located at www.philips.com/newscenter.
Contact:

Julie Smith - Philips Vari-Lite Corporate
+1-214-647-7880
E-mail:

Web site:

www.philips.com/showline

Locate more architectural, entertainment & decorative lighting vendors in the LEDs Magazine Suppliers Directory
Submit new products, case studies/projects, and other press releases at http://www.ledsmagazine.com/content/leds/en/addcontent.html and http://www.ledsmagazine.com/content/leds/en/iif/add.html.
More from Philips Entertainment:
Philips Entertainment LED lighting and controls create dynamic scene for Centennial Covenant Church
Philips Entertainment Showline SL Nitro 510 LED luminaires tour with country artist Gary Allan