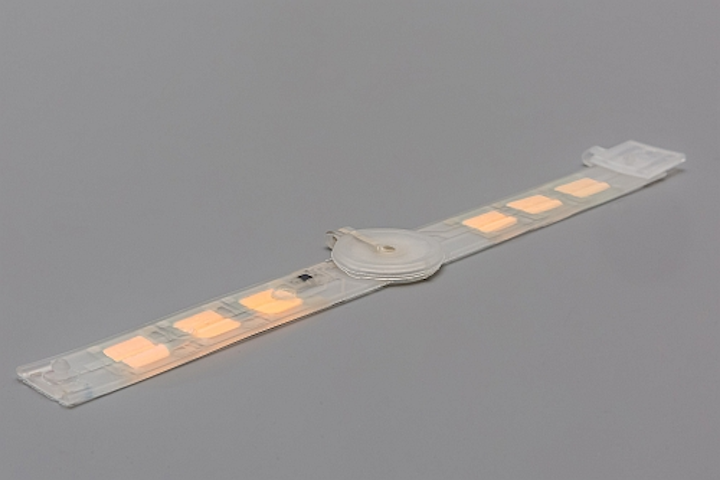 Like LED chipmakers, the OLED world is targeting new health-related markets. Both technologies continue to move beyond illumination.
A trio of research groups led by Germany's Fraunhofer FEP has developed a flexible OLED bracelet that it said could help heal wounds and treat depression, a development that echoes efforts by LED chipmakers to target new areas such as health monitoring.
Interested in articles & announcements on OLED and LED technologies in life science applications?
The wearable device also has applications as a fashion item, and can give visibility to people working outside at night when tuned to red or yellow frequencies Fraunhofer said.
The Dresden-based center, one of many Fraunhofer Gesellschaft research institutes, said the bracelet can assist in healing wounds when tuned to a certain frequency. It did not immediately provide detail on the frequency settings. LEDs Magazine has sent the OLED researchers an inquiry and will update this story when we learn more.
Likewise, Fraunhofer said the material can help treat depression when worn in a "head-up" design.
Fraunhofer FEP — the Fraunhofer Institute for Organic Electronics, Electron Beam and Plasma Technology FEP — developed the wristband with Finland's VTT Technical Research Center and with the Holland-based Holst Center. Fraunhofer was responsible for the anode deposition on the barrier layer — the layer that protects the OLED material — as well as for the OLED deposition using an evaporation process, which Fraunhofer can do through either a roll-to-roll or sheet-to-sheet process.
Eindhoven-based Holst developed the barrier layer, and Espoo-based, state-owned VTT integrated it all into a bracelet while also developing the device's compact power supply.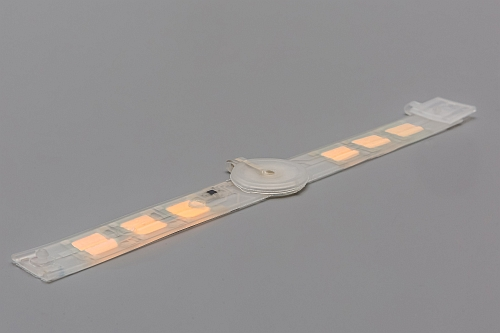 Fraunhofer says its new OLED bracelet can heal wounds
Fraunhofer developed an OLED wristband along with Finland's VTT and Holland's Holst Center.
The three groups worked together through the EU's PI-SCALE OLED development initiative, and will continue to develop the OLED wristband under the Lyteus name, Fraunhofer said.
The announcement comes seven months after Fraunhofer revealed that it had figured out how make flexible OLEDs change colors.
OLED (organic light-emitting diode) materials emit light from across their surface, as opposed to LED chips, which are single points of light. OLED has not yet developed into a widespread general light source. Manufacturing costs have been an obstacle, and they have not generally matched LEDs for energy efficiency. Flexible OLEDs — as opposed to non-bendable OLEDs — have long held the promise of delivering a whole new world of lighting opportunities as they could be woven into the fabric of buildings, furniture, clothing, and all sorts of materials.
Both OLED and LED technologies are applicable as display screens and in the automotive market. And developers of both are exploring new territory. For example, just like Fraunhofer is now looking into health applications, Osram is pushing infrared LED chips for use as health monitors in watches and fitness devices, and for facial recognition in security applications.
MARK HALPER is a contributing editor for LEDs Magazine, and an energy, technology, and business journalist (markhalper@aol.com).