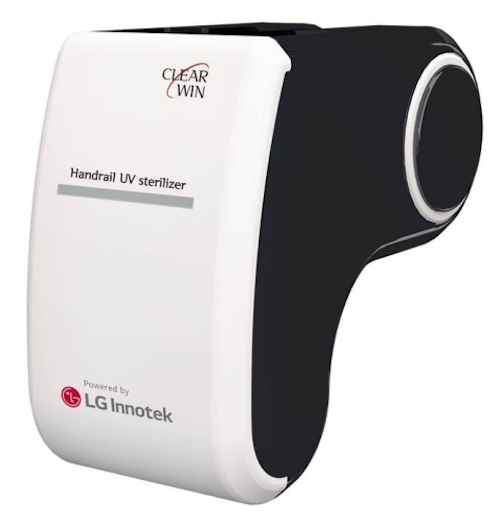 Airports, convention centers, malls, and other public gathering spots rely on people-moving systems, but users often fear germs on the handrails touched by thousands. Ultraviolet LEDs may solve the sterilization issue.
LED maker LG Innotek has said that an ultraviolet (UV) LED-based device can sterilize handrails on escalators and moving walkways in public spaces, thereby allowing germ-fearing visitors to hang on to the safety-centric moving stabilizer rails without fear of infection and illness. Many people are hesitant to touch the handrails used by thousands of people each day, despite the fact that holding onto the rails is much safer for users. The LG Innotek device offers the further benefit of being powered by the moving rails.
Interested in articles & announcements on UV LEDs and life science applications?
We have covered the sterilization benefits of UV-based LEDs a number of times in the past few years. UV LED maker RayVio has even delivered a small system that can sterilize baby bottles. Nikkiso, meanwhile, has been pursuing the technology to enable water sterilization inside of pumps in the water delivery system.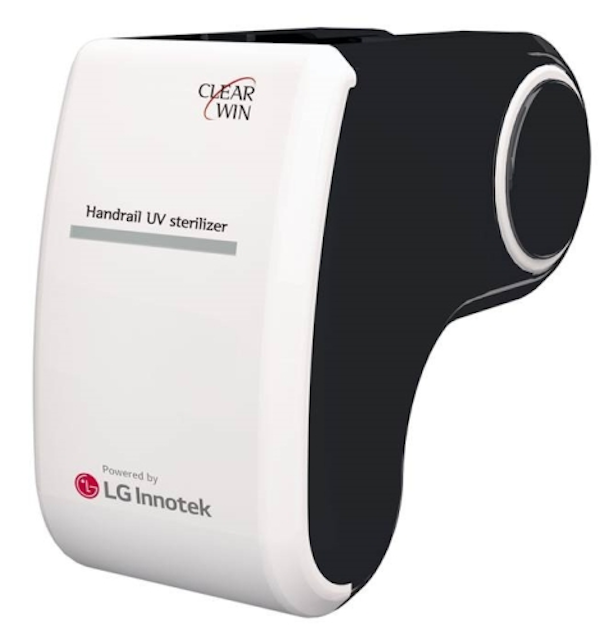 UV LEDs sanitize escalator and powered walkway handrails
UV LEDs in the LG Innotek device shown here obliterate 99.99% of germs on handrails used to make escalators and moving walkways safer.

The UV LED technology is able to kill germs immediately and LG Innotek touts that benefit in its handrail announcement. That instant impact differs from violet-based continuous disinfection systems that are under development at companies such as VitalVio and that will be sold by licensee Acuity Brands. The continuous systems must be on 24 hours per day to deliver the desired disinfection.
UV systems aren't necessarily safe for direct radiation into human eyes, but the LG Innotek concept limits the radiation to the handrail. The UV LED devices (pictured) are installed at the entry end of an escalator or walkway and disinfect the rail as it moves into position for a person to grasp. The design offers the further aforementioned benefit of being powered by the rail movement, although LG did not disclose exactly how that energy-harvesting system works.
The company states that the technology can "wipe out 99.99%" of the germs on a moving handrail. It's based on LEDs that emit at 278 nm in the UV-C band. You can read more background on UV-C radiation in our coverage of a UV talk at Strategies in Light several years ago.