It's a car! It's a home! It's a wireless lighting control system! The latest in IoT illumination, on display at the Frankfurt Motor Show, of all places.
With cars and lights emerging as two of the most common connected "things" in the Internet of Things (IoT), Philips Lighting and Renault have teamed up to develop a combination concept car/smart home that treats a self-driving electric car as a stylish extra room that also serves as a lighting control center.
Interested in articles & announcements on smart lighting & IoT in specialty SSL applications?
First, just to repeat for the sake of clarity: The Renault Symbioz is a concept car/room/thing. It's not necessarily something that the two companies really intend to market, although who knows for sure.
But it exists — it's on flashy display at the 2017 Frankfurt Motor Show running through Sept. 24 — and as such, it shows off the possibilities of combining automotive, smart lighting, and home design technologies.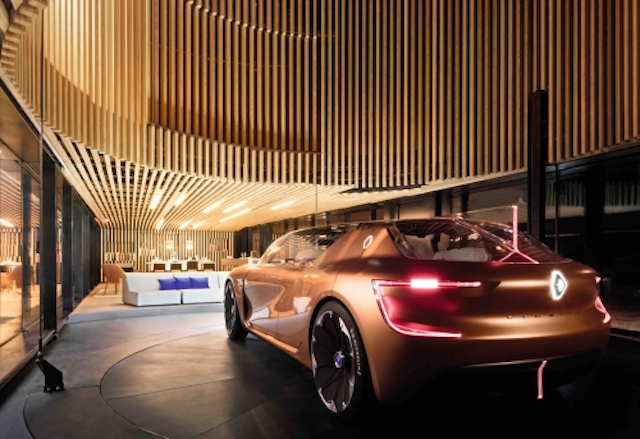 Some people think that leaving your shoes in the living room is bad. How about a car? Don't worry — it doubles as a light switch. (Photo credit: © Guerra, Fernando.)
"Parked in the smart home, Symbioz doubles as a snug, mobile, comfortable, and modular extra room," the two companies said in a press release. "Its interior was inspired by the design of living rooms. As an elegant open or closed environment, the car connects and interacts with all manner of devices and appliances in the home, making it an ideal space to work in or relax. Its operating system is shown interacting with and controlling the smart home lighting."
The smart lighting includes Philips Hue LEDs. As the car pulls into the driveway, it communicates with Hue smart bulbs, switching them on in the living room and kitchen. It then enters the home — not into a conventional garage space but into an area where luminous walls automatically light up with Philips' Luminous Surfaces, comprising textiles outfitted with LEDs (they are not OLEDs). The car sits on a platform that elevates it within a cylinder lit by 5368 Philips Color Kinetics iW Flex LED light points, which change their shade of white to indicate the car's connectivity status with the home. The Kinetics lights could, for example, use a particular shade of white to show that the car is charging.
"Symbioz is truly a unique project that allowed us to work with our planners, designers and engineers, academics and architects, startups, and sociologies to explore new boundaries in customer experience, technology, and energy use and design harmony to form a complete experience," said Philips senior vice president of corporate design Laurens van den Acker. "The shared vision with Philips Lighting allows us, by lighting, to strengthen the link between the house and the car."
Part of the IoT vision entails keeping the car within the modern home's living space, as the elevating platform can simply leave Symbioz indoors, or move it onto a terrace.
Warning to the male of the species: Blending the car into interior design spaces could mark the beginning of the end of man caves.
MARK HALPERis a contributing editor for LEDs Magazine, and an energy, technology, and business journalist (markhalper@aol.com).