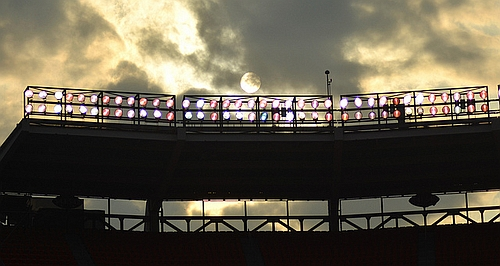 Floodlights are the elephant in the room in their new partnership at FirstEnergy Stadium, where the games will continue under existing fixtures. Bright new concourses for the fans, though.
Many sports stadiums are switching to LEDs to light their playing field, but it's not always the right way to go. Certainly not along the shores of Lake Erie, where the Cleveland Browns and LED stalwart Cree have curiously avoided it.
Interested in articles & announcements on LED sports lighting?
Earlier this month, the hard-luck National Football League team dubbed Cree as its new "official lighting partner" in a deal that the innovative Durham, NC-based company trumpeted for "driving change for the better on and off the field."
Indeed, Cree has livened up some stadium concourses and facades with bright and effective LED sports lighting, as part of a two-year, $125M (million) upgrade at FirstEnergy Stadium aimed at making things more enjoyable for the fans. Cree expects much of the new lighting to pay for itself in three years through energy savings.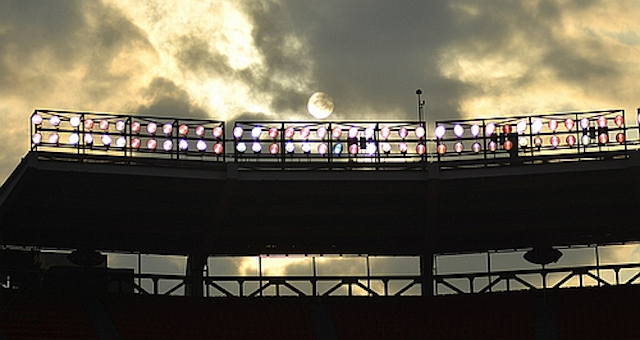 Cree and Cleveland Browns team up on LED sports lighting. Just don't mention the field lighting!
The more things change, the more they stay the same at FirstEnergy Stadium, which has spiffy new LED concourse lighting from Cree, but has decided for now not to swap out the field lights. (Source: Erik Drost via Flickr.)
But let's face it. The first thing anyone thinks when they associate stadiums and lighting is field lighting. Many major sports venues have switched to LEDs to purportedly save energy, improve broadcast quality, and eliminate the need to warm up the lights to full brightness. Italian soccer champs Juventus, for instance, recently kicked off their new season with LEDs.
Yet it was notably absent in any specific reference in the Cree press release. Cree's passing, gratuitous remarks about "on the field" change was devoid of any facts.
What made the omission more peculiar is that FirstEnergy Stadium is named for $15B investor-owned utility FirstEnergy Corp., which is paying around $102M over 17 years for the rights. You might think that FirstEnergy, the power company, would use the stadium to showcase its energy-savings credentials and its technology leadership.
So LEDs Magazine made a simple inquiry. Or at least we thought it would be simple. "Is the field lighting LED?" we asked a Cree spokesperson via email on Sept. 19, giving them until Sept. 23 to respond. We also asked if not, why not? And what technology do the Browns use?

Homer had a shorter odyssey than we're still enduring in trying to get a clear answer. For whatever reason, field lighting is the elephant in the room at FirstEnergy Stadium.
We now know this much: The field lights are not LED. But Cree wouldn't tell us that. All they would say after we waited the four days for their answers was, "Unfortunately, we are unable to answer and confirm statistics at this time." It was an odd response, since some of the questions, like the one about field lighting, were as easy as asking somebody their name.
In the meantime, of course, we had checked in with other key parties as to whether the floodlights are LED.
The City of Cleveland, which owns the stadium, did not reply to two emails.
FirstEnergy, the utility with the branding rights, referred our email to the Browns, who operate the stadium and pay the rent.
The Browns played evasive. After they clearly received our question from FirstEnergy, they asked what our question was. D'oh!
As good sports, we repeated it. They still would not answer whether the field lights are LED. Instead, they sent a couple of dodgeball emails, one along the lines of wanting to be clear on our context so they could give us "the best information possible." In another they told us that the field lighting question was not relevant to our story, which to their mind should be all about the "improved fan experience."
Each time, we asked again: Is the field lighting LED?
Finally, in their fourth email, they fessed up: "The field lighting is not LED," a spokesperson said. "If/when the field lighting needed upgrades, we would evaluate options with Cree."
We say "fessed up" because by now it truly seemed as though everybody really wanted to avoid going on the record saying that. As if a missive had gone around saying, "Don't mention the field lighting."
All along, we had also repeatedly asked everyone to explain why not if it turned out that the lights were not LED. Good reasons? Maybe money? Maybe energy savings and other LED benefits are not all they're cracked up to be? Maybe the Browns take seriously the claims, buoyed by a recent report from the American Medical Association, that LEDs can damage health? Maybe the Browns are actually looking into it? We also asked what types of lights they use and how long they've been using them.
The Browns have now sent us a total of seven inconclusive emails. In the last one, three days ago, the spokesperson said they were "still looking into your logistics questions."
Logistics questions? All we want to know is why no LEDs, and what do they use instead. We also went back to FirstEnergy for an explanation, but we have yet to hear back.
The Browns, who have lost their first three games this year, might finally manage to have a winning season before we get more details. That could take a while. Hopefully we'll receive the answers first.
MARK HALPERis a contributing editor for LEDs Magazine, and an energy, technology, and business journalist (markhalper@aol.com).