A four-channel laser diode component targets LIDAR applications in autonomous vehicles while the latest Oslon Black Flat LEDs will bring adaptive headlamps to mainstream vehicles.
Osram Opto Semiconductors used the Electronica trade fair as a venue to launch some new automotive-targeted LED and laser-based components. The surface-mount device (SMD), four channel laser demonstrated at the show is a prototype product intended for LIDAR (light detection and ranging) applications and such systems will be critical in the evolution of autonomous or self-driving autos. Meanwhile, the company continues to evolve its LED headlamp product portfolio, announcing the commercial availability of the three-to five-emitter Oslon Black Flat S SMD LEDs with each LED in the package being individually controllable.
Interested in articles & announcements on specialty LED applications?
LIDAR technology is being used in many different applications, as we described in a feature article focused on LED-based LIDAR systems. In automotive applications, LIDAR is already in use in some driver-assistance functionality with adaptive cruise control, emergency braking, and other systems. Moreover, autonomous or semi-autonomous vehicles would depend on a system of some type that can detect objects.
LIDAR works by using so called time-of-flight measurements. A laser diode in the Osram implementation emits a pulse of light that is reflected by an object and the reflection is captured by a sensor. A microcontroller can then calculate the distance to the object based on the elapsed time from the pulse emission to the return capture.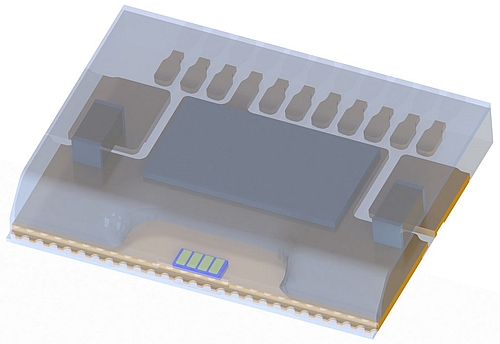 Osram announces automotive LED and laser products
Osram has launched an automotive-targeted laser device that provides LIDAR functionality that can be used in autonomous or self-driving vehicles.
Osram said its new prototype uses very short pulse lengths that ensure eye safety and four channels to improve the accuracy of LIDAR systems. Moreover, the company said it enables a vertical detection zone with the addition of a MEMS (microelectromechanical systems) chip from partner Innoluce (an Infineon business unit) alongside the laser diodes.
The prototype includes four laser diodes that are manufactured on a single substrate and then electrically isolated in the backend of the semiconductor manufacturing process. The technique ensures that the four diodes are parallel and no manual alignment is required. The laser diodes are serially energized in a scanning type manner and the MEMs devices can deflect the beams selectively, allowing the component to essentially produce a 3D map of the surrounding environment. Osram said the LIDAR devices can cover a 120˚ horizontal field and a 20˚ vertical field.
Osram has not said when the new LIDAR device will be commercially available. While it integrates multiple semiconductor devices, the 8×5-mm component is as mentioned before an SMD. The laser operates at 905 nm, and outputs 85W of radiometric power from a 30A driver per channel.
Black Flat for headlamps
Moving to automotive headlamps, Osram has several LED product families that can serve in the application. The Oslon Black Flat product line has been the mainstream offering intended to drive LED adoption in all cars as opposed to in just high-end models, and Osram announced the family originally back in 2012. A multi-emitter version of the Black Flat family emerged in 2013, although at that time there was no individual control of the emitters. But the slimmer design was intended to make headlamp systems more compact.
A little more than a year ago, Osram demonstrated the first Black Flat S prototypes that enabled individual control of the emitters and as many as five emitters in parallel. The granular control was intended to enable adaptive headlamps, which perhaps lack the full capability of a matrix system but that still could implement low- and high-beam functionality in a single device.
Now the Black Flat S is commercially available with a three-emitter version already shipping commercially. And Osram said the four- and five-emitter varieties will ship commercially in January 2017.
"The Oslon Black Flat S series enables the benefits of adaptive matrix light to be offered not just on flagship models but also on cars in the entry-level and compact classes so drivers of these cars will also enjoy greater safety and comfort," said Thomas Christl, product manager. "In addition to glare-free high beam, other adaptive LED front lighting functions such as cornering light and city light can be implemented with the Oslon Black Flat S — without the need for any mechanical elements."