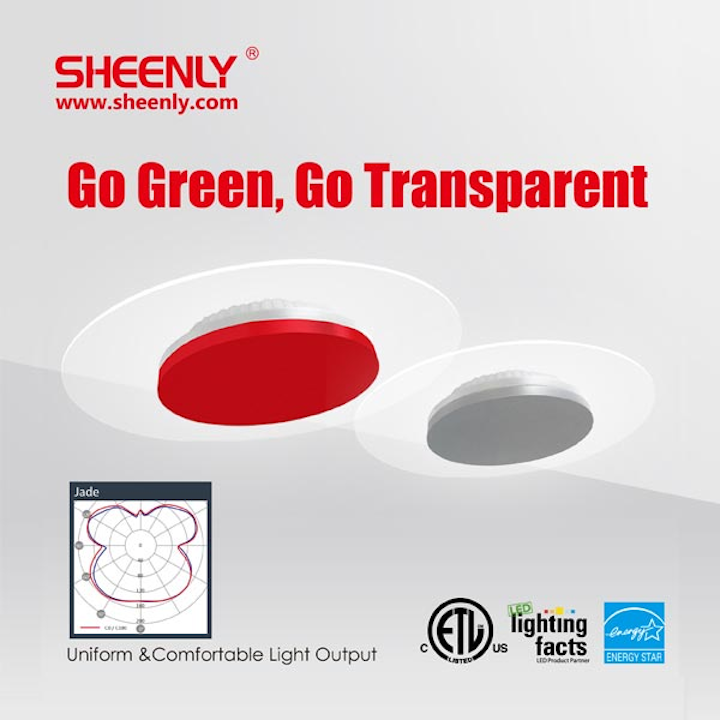 Sheenly's new designed Transparent Light Jade is a revolutionary product, which is developed for ceiling lighting. Jade LED ceiling light has a stylish appearance with innovative full transparent design and has uniform light distribution. The installation is flexible and easy. Different color of cover is optional, makes it easy to adapt to different interior design themes. Another advantage is that cover can be changed individually.

The LED ceiling light has three kinds of specifications. Diameter of 280mm with 12W, diameter of 320mm with 18W and diameter of 420mm with 24W. It also has a dimming control version with 1-10V dimmable and occupancy sensor version.

Easy installation, it can be surface mounting, wall mounting. Jade is widely used in restaurants, offices, residential, theatres, etc.

Features:
- Ultra modern, stylish and innovation design
- Variety of color cover, Color of cover can be changed individually
- Energy efficient, 100lm/W
- No UV or IR emissions
- Durable with life span over 50,000 hours
- Environmentally friendly-fully recyclable, no mercury or other hazardous materials
- Very simple and convenient installation
- Dimming Driver, 0-10V Dimmable/Triac
- Occupancy Sensor, Energy Saving/Automatic Control

Meanwhile, Sheenly has distributors and stock all over the America, you can get fast delivery, easy communication and local support. You can find our distributors at http://www.sheenly.com/support/read.php?id=134. If you are interested in being Sheenly distributor in your region, please contact us!


Contact:
Jim Wang, Overseas Sales Manager - Sheenly Lighting Co Ltd.
+86-21-6411-3138 ext.606