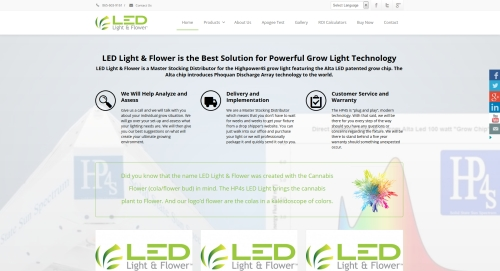 LAS VEGAS, NEVADA – LED Light & Flower, the company formed by the founder of LED Light & Power, is proud to announce the launch of its new website www.LEDLightandFlower.com. The new website reflects the group's focused key commitments to distributing the ultimate Full Spectrum LED grow light, engineered to better replicate the sun than any other technology in existence… the Highpower 4S Phoquan technology.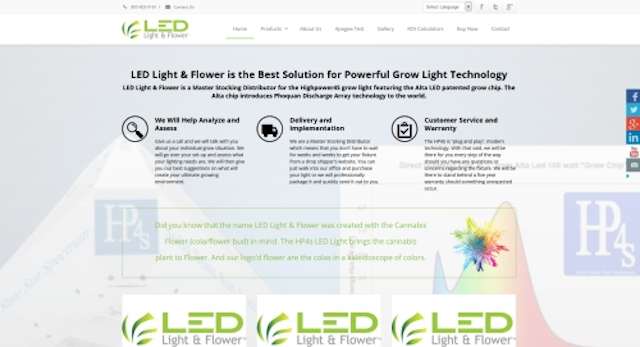 LED Light & Flower unveils new website dedicated to LED horticultural lighting

The new website effectively communicates the world of LED Light & Flower and has been designed in a way to entice the visitor to 'explore' the site. The site uses technology and videography to give the visitor a unique user experience.

The supported chip for the HP4S technology, Alta LED, has stated that this is the world's most optically advanced LED chip. Domestically made, the chip is the next generation of LED lighting.
"We are excited to be the first Master Distributor for Highpower 4S," said Lee Hein, Founder of LED Light & Flower. "It was a natural course for our parent company, LED Light & Power to take. We are based in Las Vegas where we consult and supply many hotels and casinos as well as industrial and commercial companies locally, domestically and in the US with LED Lighting. We now can support growers throughout the world with the best LED technology in a grow light, providing a sustainable and efficient growing method, "said Hein.

LED Light & Flower can ship the HP4S grow fixture worldwide. They provide support, expertise and explain energy savings on LED grow lighting to all their customers. As a Master Distributor they have product on their shelf, ready to sell, evading the wait of order time.

About LED Light & Flower:
LED Light & Flower is a sister company to LED Light & Power who has had a big part in lighting up Las Vegas. Having an association with Evergreen Lighting and Alta LED, LED Light and Power had a natural association with the manufacturer of the HP4S. Educating themselves on the grow industry and meeting with several growers and researchers, LED Light & Flower was born as the first Master Stocking Distributor for Highpower4s. At the helm of LED Light & Flower is Lee Hein, who is a veteran in the lighting industry. A prominent business member of Las Vegas, she has vast experience in the lighting world. For more information visit altaLED.com.
Contact:

Celeste Miranda - for LED Light & Flower
+1-805-744-2424
Web site:

Submit new products, case studies/projects, and other press releases at http://www.ledsmagazine.com/content/leds/en/addcontent.html and http://www.ledsmagazine.com/content/leds/en/iif/add.html.