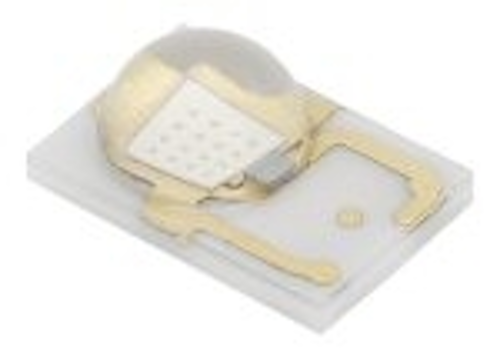 Philips Lumileds has announced immediate availability of its latest power LED, the Luxeon Rebel, which features new packaging technology that dramatically reduces the size of the LED.
The Rebel contains a 1x1 mm2 chip and has a footprint of just 3mm x 4.5mm, considerably smaller than rival power LEDs. The chip is mounted on a ceramic substrate and has a hemispherical silicone lens.
After criticism of delays in the launch of the Luxeon K2, Lumileds has limited the pre-launch hype for the Rebel, although hints have been dropped at various events earlier this year – see New Lumileds power LED is a small secret. Lumileds has been careful to ensure that the product can be shipped immediately, via Future Lighting Solutions.
The Rebel is engineered for operation between 350 mA and 1000 mA, and is the first power LED to offer guaranteed minimum performance (many datasheets for other LEDs specify typical performance values). Lumileds says that its minimum performance specifications enable greater design and manufacturing consistency, and allow customers to purchase the light output performance appropriate for each application.
The Rebel white binning structure includes a CCT range from 2670K to 3500K for warm-white, 3500K to 4500K for neutral-white, and 4500K to 10000K for cool-white. Sampling of the warm-white and neutral-white products begins immediately with volume production later this year.
For each CCT range, there are several bins with different minimum performance; 40, 50, 70 and 80 lm at 350 mA for cool- and neutral-white. With a forward voltage of 3.15 V, the highest bin has an efficacy of around 72 lm/W.
At higher drive currents, the datasheet shows that the top bins deliver 145 lm at 700 mA in cool- and neutral-white (57 lm/W), and 110 lm for warm-white (43 lm/W).
Typical color-rendering index (CRI) is 80 for warm-white, 75 for neutral-white, and 70 for cool-white.
The package's small footprint and low profile of just 2.1mm should enable significantly reduced color mixing and diffusion depths. This will allow luminaire designs that are significantly thinner than those using alternative power LED packages. The Rebel's small size could prove particularly useful in LCD backlighting applications.
Despite its tiny size, the Rebel is very robust, and is designed to withstand a maximum junction temperature of 150 degrees C. Lumileds says that the Rebel is the first power LED for lighting to be rated for unlimited shelf life further simplifying inventory management and manufacturing.
For lighting designers, the addition of a neutral-white range (a first for a Lumileds power LED) makes it easier to appropriately target the color temperature characteristics for many applications. The company's patented conformal coating process minimizes CCT variation and maximizes color uniformity.
David Eastley, Product Manager, said "Rebel takes advantage of our latest chip, phosphor and packaging technologies to accelerate the use of LEDs in a wide range of lighting applications, particularly residential and other 'white lighting' applications for which LED options have been limited."
"We also recognize that there is a technical communication gap between the semiconductor and lighting communities so we are taking the lead in defining new references for reliability -- lumen maintenance and lifetime -- and tools that allow reliability to be analyzed based on temperature and drive current variations. These measures along with our flux-differentiation, guaranteed performance and improved white color temperature selection make it easier than ever to create lighting solutions."