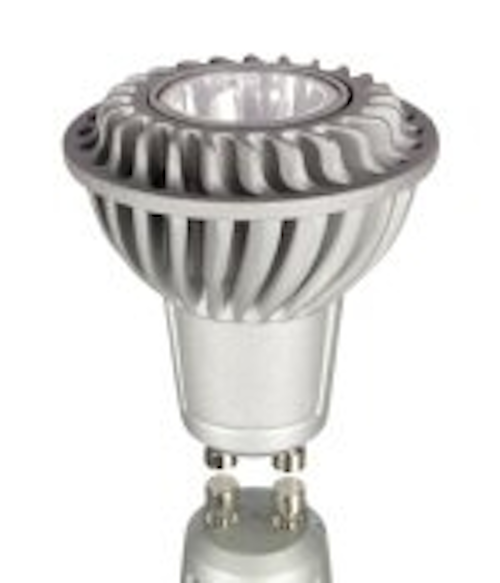 A 4-watt GU10 LED from GE Lighting is the first retrofit LED lamp to gain approval by the UK's Energy Saving Trust's product certification scheme. The lamp is now permitted to carry a Recommended label, allowing costumers to recognize energy-efficient products.
The EST website shows the separate requirements for LED Lamps and for LED Luminaires.
The GE LED lamp will be added to various other lamps already listed on the Energy Saving Trust Recommended lighting products web page. The list mainly includes compact fluorescent lamps, as well as two halogen lamps (at the time of writing).
Designed as a retrofit for reflector lamps with an international-standard size and shape, the GU10 LED lamp opens the door to significant energy savings and maintenance cost reductions, with a rated lifetime of 15,000 hours (to 70% lumen output).
The lamp has the same 36-degree beam angle as 20W GU10 halogen lamps, with 12% higher candela, according to GE's brochure. It produces warm-white light at 3100K with CRI >80.
Unlike other retrofit LED lamps on the market, the GU10 LED lamp has been shown to meet a variety of stringent criteria set by the Energy Saving Trust relating to properties including beam angle, candela, color rendering, power factor, color temperature and physical size and shape.
The Energy Saving Trust Recommended scheme only certifies the highest performing products that make a significant contribution to energy savings. All products have to be verified by third-party test laboratories to gain Energy Saving Trust Recommended approval.
"We are delighted with the approval from the Energy Saving Trust and it is a significant milestone in the evolution of LEDs," explained Mike Barrett, Commercial Director, UK & Nordic Region at GE Lighting.
"This is the first time an LED lamp has been awarded approval by the Energy Saving Trust Recommended scheme, and GE Lighting has set a high standard for the industry by demonstrating what high-quality, well-designed LEDs in the appropriate application can achieve."
The Energy Saving Trust Recommended scheme's Category Marketing Manager, Toni de la Motta, states, "We are pleased that GE Lighting has taken this step to be the first manufacturer to certify a LED lamp on the scheme. This will undoubtedly help us to meet our objective of reducing carbon emissions from the household sector by making the most energy-efficient products available to consumers."
Energy Saving Trust Recommended is a scheme run by the Energy Saving Trust that certifies the most energy efficient products on the market. Launched in 2000, the scheme's objective is to certify the best performing energy efficient products and make them easily identifiable to consumers. Products certified on the scheme must meet strict energy performance criteria, set by an independent panel of industry experts. The Energy Saving Trust is a UK organization set up to try and prevent climate change by helping everybody to cut carbon dioxide emissions from their homes and transport.