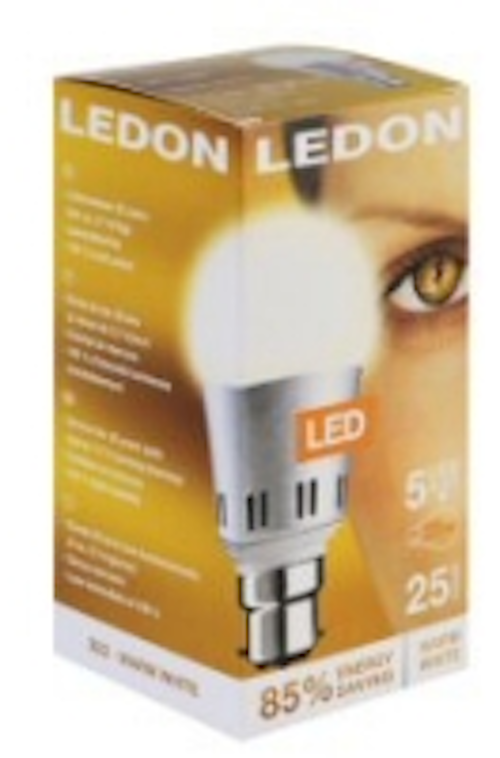 Zumtobel Group, the Austria-based lighting company which specializes in professional light fittings, lighting solutions and lighting components, is set to enter the lamp business for the first time, via the LED retrofit market.
The Group has founded a subsidiary, Ledon Lamp GmbH, based in Dornbirn, Austria, which will promote the sale of a broad portfolio of LED lamps. The product range will focus on retrofit LED lamps to replace conventional incandescent light bulbs (e.g. with E14 or E27 screw caps).
"LEDs are where the future lies," said Zumtobel Group CEO Andreas Ludwig. "We have built up a leading level of expertise in this technology and we'll be making use of this knowledge to supply high-quality light bulbs to consumers."
The LED technology for these lamps will be supplied by the Zumtobel Group subsidiary Ledon Lighting Jennersdorf GmbH, which supplies the Zumtobel Group brands with LED modules and components. The core competency of Ledon Lighting is described as "high-quality white light from LEDs, with expertise in warm-white LEDs and stable, homogenous color distribution."
Sales of these high-tech LED lamps (initially 5W, 6W and 6W-dimmable versions) will be via retail outlets, such as DIY stores, as well as from sales partners across Europe. Ledon Lamp GmbH is headed up by Detlef Mikulsky and Peter Petz.
Ledon Lighting began production of LED modules for use in retrofit lamps as early as 2008, and has supplied chip-on-board modules to lamp makers such as Lemnis Lighting (see photo). Modules with an efficacy of 100 lm/W and CRI of 90 at 2900K enable lamps with an efficacy of 65 lm/W.
Co-operation with Lemnis Lighting B.V.
Zumtobel has also concluded a development partnership agreement with the Dutch company Lemnis Lighting B.V, which markets various LED retrofit lamps under its Pharox brand name (see also the Lemnis press release).
Lemnis and Ledon will jointly develop a full-line portfolio of technologically advanced and high quality LED-based lamps for residential and professional use. The lamps, designed to replace not only conventional light bulbs but also halogen spots, is to be marketed by both companies under the Ledon and Pharox brands.
Under the terms of the agreement, Zumtobel Group companies are also defined as a preferred supplier for Lemnis Lighting.
"Ledon and Lemnis are the perfect partners to drive the breakthrough of the LED lamp," said Zumtobel's Ludwig. "Our joint strategic goal is to build up a significant volume of business in the lamp market."
Lemnis Lighting CEO Remko Gaastra described the deal as "a further step in our strategy to form strong partnerships with key players in the industry to enable fast technology and product development."