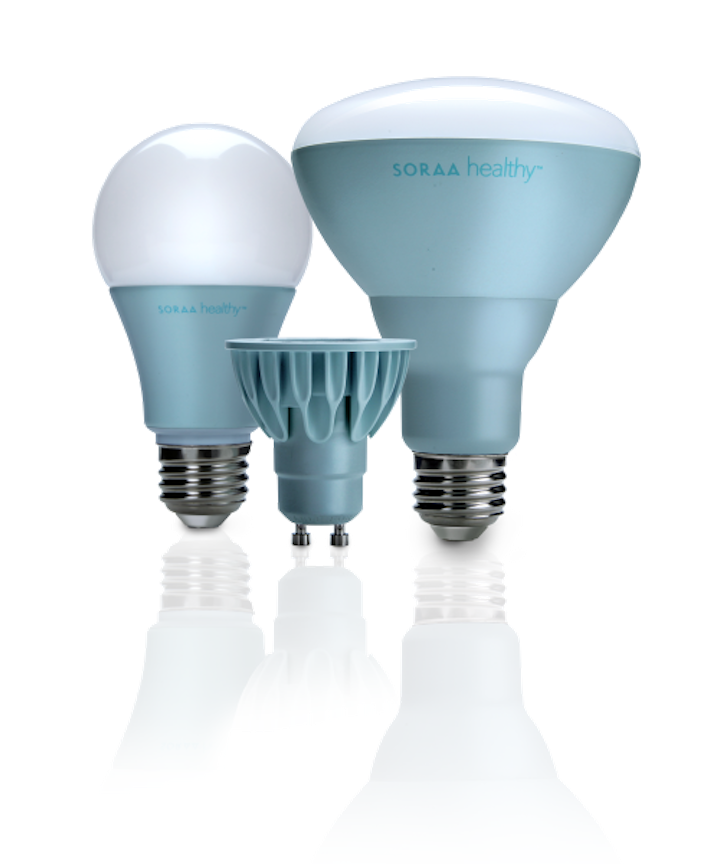 Spectral power distribution with no energy in the blue range allows the Healthy products to prepare humans for a restful night and optimal sleep patterns, says Soraa.
Soraa has announced the Healthy family of LED replacement lamps in most popular forms that have a unique spectral power distribution (SPD) emitting no energy in the blue range (shown in the nearby photo and SPD comparison). The Healthy concept is intended to promote healthy rest and optimal sleep patterns by eliminating the blue spectra — delivering lighting for health and wellbeing benefits. Soraa is shipping 120V A19, MR16, and GU10 LED lamps now, 220V and BR products will follow in the second half of the year, and the company said it would sample Healthy luminaires late this year.
The blue-free concept has been simmering at Soraa for at least two years. Indeed, the company contributed a feature article on the concept to LEDs Magazine back in June 2017. That article revealed the theory behind the concept and explained how the company had still achieved excellent color rendering even with the blue spectral energy absent from the SPD.
Soraa calls the underlying technology Zeroblue and says that the products reduce "melanopic lumens" by around 40% relative to typical LED lamps. The products use a violet emitter and a red and green phosphor mix to produce quality light without what it called the "yellow cast" effect of some other sleep-friendly SSL products on the market.
Clearly, the Healthy launch is extremely important to Soraa. The company went back to its roots and had co-founder and board member Shuji Nakamura speak on behalf of the technology. Of late, Nakamura has been more actively working on laser sources at SLD Laser — a Soraa spinoff. Nakamura invented the blue LED and received a Nobel Prize for his work.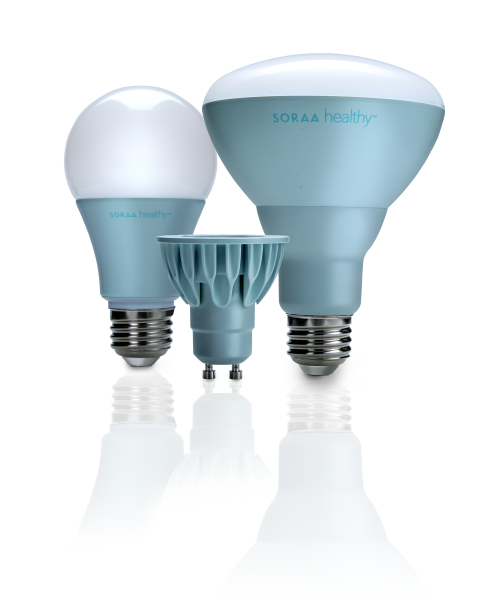 Soraa eliminates blue spectra in LED replacement lamp family
New Healthy family LED lamps from Soraa reportedly reduce melanopic lumens by approximately 40% compared to conventional LED lamps, incorporating a violet emitter and a red and green phosphor mix.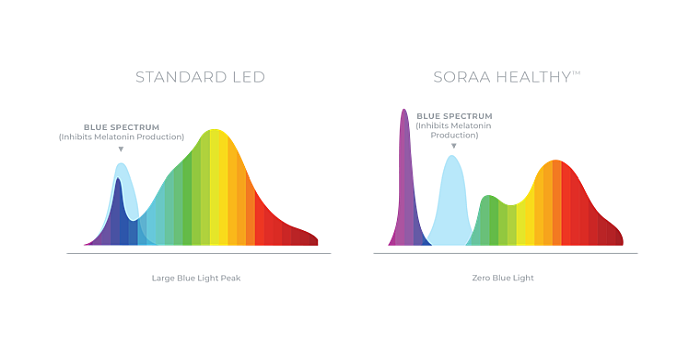 "We are entering a new era of healthy lighting options," said Nakamura. "With the introduction of Soraa Healthy products, a first of its kind, we're now able to more directly and positively impact the support of proper circadian health. Soraa's introduction of blue-free lamps will transform the way people think about light and the impact it has on our daily lives. Blue-free solutions are just the beginning as we continue to develop advanced, dynamic lighting solutions that most closely match light found only in nature."
The end of Nakamura's quote, however, hints at an issue that Soraa didn't explicitly address in its announcement. Without question, humans need blue spectral energy earlier in the day and even in the afternoon. These Healthy lamps can't deliver that. So lighting designers/specifiers and even end users will have to install the lamps in specific sockets that are utilized primarily at night — such as in a reading lamp in a living or bed room.
Ultimately, dynamically-tunable lamps and luminaires will deliver an ideal SPD based on time of day and activity. We've covered that concept on a recurring basis and technologies that attempt to deliver such optimal SPD as in a residential project last year based on Ketra's SSL system.
The obstacles to such systems are twofold. It's costly and complex to design an ideal tunable light source. Changing CCT with two LED channels may provide nice ambience, but experts agree that such a simple system will not deliver lighting for health and wellbeing type benefits. And the experts are the second issue. Scientist and researchers are still trying to fully understand human physiology and determine exactly what the body needs. We will have more on that topic in an upcoming issue from a panel that took place at Strategies in Light.