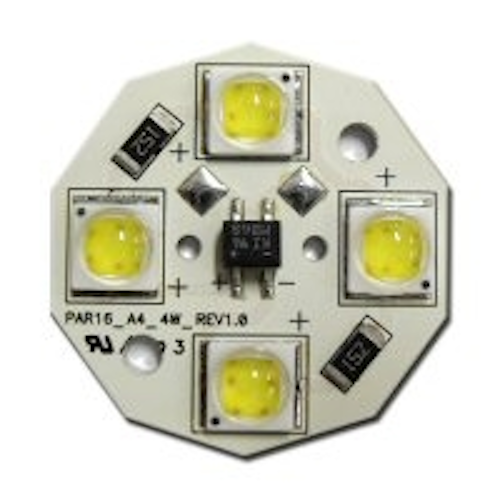 Korean LED maker Seoul Semiconductor has introduced the Acriche 4, a new version of its alternating-current (AC) LED product, in major markets around the world.
The company claims that the A4, which will be mass produced and available this quarter, offers "better luminous efficiency" than direct-current (DC) LEDs.
The A4 has a luminous efficiency of 75lm/W, and Seoul says it is capable of replacing warm-white incandescent and compact fluorescent light sources in many consumer and commercial applications.
According to Seoul, white LEDs are divided into two major markets: products with a high color rendering index (CRI) greater than 85, which is close to natural light, and products with a normal CRI of 70 to 80.
High CRI products will often be significantly less bright than their lower CRI counterparts, but Seoul claims to have solved this problem
The A4 devices have a color temperature of 3000K and efficiency of 75 lm/W, while also offering a high CRI of 85.
This, says the company, is the first time that AC LEDs have achieved better luminous efficiency than comparable DC LEDs. "With the mass production of the Acriche A4 series, we will be able to provide both high quality and normal use markets with light sources that have exceptional performance and lower prices. With the A4 series, we want to spread the name 'Acriche' far and wide as the world's best LED brand."
Seoul lists several "significant advantages" of the Acriche A4 series, including the possibilty to use Acriche products on AC power freely between 100V and 230V without additional conversion. Only a simple, inexpensive diode bridge is required.
However, the A4 differs from other Acriche products (such as A2 and A3 series) in that it uses 50Vrms per package. A total voltage of 110V-220V can be achieved by connecting multiple devices in whatever manner is needed.
"Whether used in light bulbs or light structures with arrays of LEDs, the most suitable design is guaranteed due to the degree of freedom of placement and configuration of the A4," says Seoul.