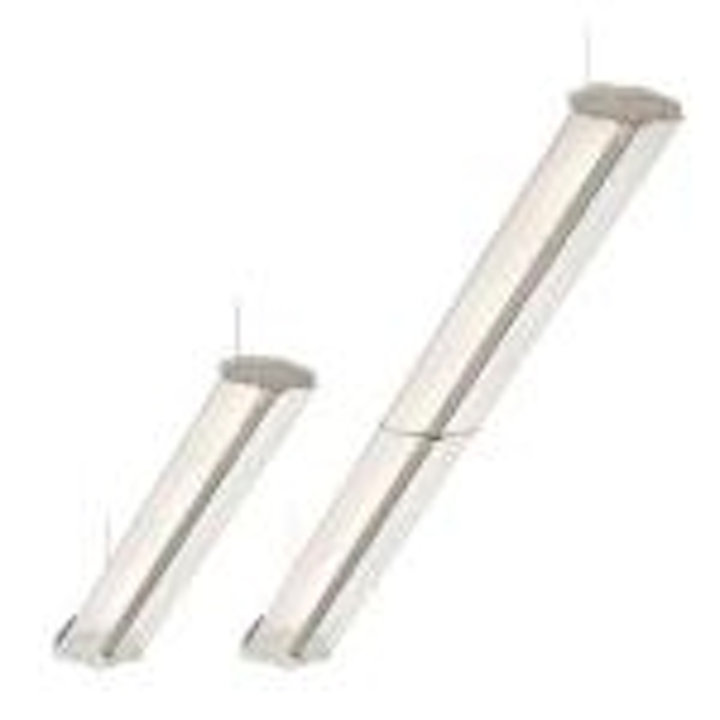 Leading into Lightfair, Cree made announcements in both its lighting division and its core LED business. Cree Lighting announced a high-end LED downlight that it says targets architectural-grade applications, and a mainstream downlight meant to match the price of compact-fluorescent (CFL)-based downlights. In addition, the company launched the CS series linear solid-state lighting (SSL) fixture rated for 75,000 hours of life. Cree's LED unit, meanwhile, has announced new LED modules and more comprehensive TEMPO testing services for its LED customers.
The new SR Series Architectural Downlight is available in a choice of 3000K, 3500K and 4000K CCTs with a CRI greater than 90. Cree joins a number of companies in using the word architectural to imply a higher-performing product, although that terminology can be confusing given that it's more widely used to describe outdoor lighting of buildings and structures.
David Elien, vice president at Cree Lighting, says the optical design of the SR products sets it apart. He said, "Many LED downlights have a gap between the light source and the reflector in the can." With the new downlight, Cree announced the Cree Light Source-Reflector Unity Optical system. What that means, according to Elien, is that the light is uniformly and evenly spread across the surface of the optics and the reflector.
"With the SR Series, the high-quality LED light you expect from Cree comes in a package that you would expect from an architectural-grade lighting manufacturer and at a price point consistent with the industry," said Leah Robinson, lighting designer at Affiliated Engineers, Inc. "Plus, its high efficacy and color consistency allows designers to put more thought into the details of their design and feel confident in the quality of their downlighting solutions."
The SR Series delivers 2000 lm , efficacy of 80 lm/W, and a lifetime of 75,000 hours. The product is priced in the $200 range and Elien said that's commensurate with architectural-grade products based on legacy sources. That means, according to Elien, that payback is instant. He said, "The goal is no compromise for the user, but to drive payback."
Contractor-grade downlight
Cree classifies the second new downlight – the KR Series – as contractor grade, and the product will sell in the $150 range. Like the SR Series, the KR series uses Cree TrueWhite technology that mixes amber and red LEDs to produce a warmer light and higher CRI. Indeed, the KR series delivers better than 90 CRI in 2700K, 3000K and 3500K CCT options.
While the SR series is 0-10V dimmable, the KR series is dimmable via a triac to 5% of full output. Cree said the product is a direct replacement for 13W and 26W CFL downlights while offering 30% energy savings and superior efficacy at 54 lm/W.
The new Cree CS series linear fixtures, meanwhile, build on the successful CR series. The CS series does not include a lens but uses a new reflector design to achieve even distribution of light.
Cree already has a happy customer. "We researched the LED market extensively and only Cree offered a solution that delivered high-quality lighting and easy payback," said Jason D. Curtis, principal of Cardinal Gibbons High School in Raleigh, NC. "Since the new CS series is designed for 75,000 hours of life, Cardinal Gibbons High School can benefit from ongoing operational savings due to decreased maintenance and lower energy consumption compared to the linear fluorescents we replaced."
The CS series can be suspended from the ceiling or flush mounted with an optional bracket. The luminaires come in 8- and 4-ft versions. The luminaires deliver efficacy of 120 lm/W and CRI above 90.
Cree module and TEMPO
Moving from finished lighting products to enabling technologies, Cree announced a new module designed to replace metal-halide (MH) lamps, and more extensive testing services in its TEMPO program. The new modules are extensions to the company's LMH2 family with output ranging from 2000-3000 lm. Cree has added a new lens system that delivers a hemispheric light pattern. The module enables 50-70W SSL replacements for MH lamps in applications such as spot and track lights.
In the testing area, Cree has added to its TEMPO (Thermal Electrical Mechanical Photometric Optical) program announced last fall. The new TEMPO 24 offering includes the testing of luminaires made by Cree's LED customers to the LM-79 standards. The National Voluntary Laboratory Accreditation Program (NVLAP) has accredited Cree's service. Overall, the TEMPO program also includes some thermal and electrical evaluations that go well beyond LM-79 requirements.
"In my experience, if I had to select a single document that's had the greatest impact in selling LED light sources to customers, it would be the Cree TEMPO report," said Pierre van Helden, CEO of LED Lighting SA. "The service provided an independent and thorough review for our products and the results give us the confidence to sell our products with passion—giving our customers the assurance that our products are being designed and produced to the highest international standards."