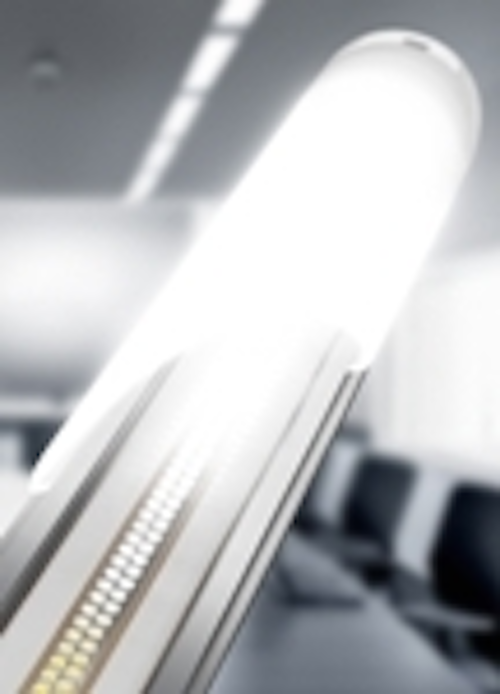 Osram Opto Semiconductors has announced a new sub-1W LED that specifically targets linear and planar lighting. The company intends for the Duris E 3 LEDs to be placed closely together in solid-state-lighting (SSL) luminaires and linear retrofit tubes so that people perceive a uniform source of light rather than individual point sources.
The target application is both LED-based retrofit tubes for T5 and T8 linear fluorescent tubes, and purpose-built SSL fixtures that will be used in place of fluorescent-tube troffers. Osram identified applications in open-floor-plan offices, production facilities, conference rooms, and warehouses as targets for the LEDs. The applications on that list share the need for uniform light, high energy efficiency, and relatively low procurement costs.
The Duris E 3 LEDs have a broad 120° beam angle and measure only 3x1.4 mm. Osram intends for the LEDs to be mounted closely together so that a person perceives "a single bright strip of light."
"This new LED extends our portfolio in the low-power range and offers the usual high OSRAM quality," said Andreas Vogler, Product Manager SSL at Osram Opto Semiconductors. "Bright LEDs are also recommended for smaller offices, shop lighting and signage."
Osram will offer the new LEDs in a broad range of color temperature ranging from 3000K to 6500K. At 5000K the LEDs feature a CRI of 72 and deliver efficacy of 110 lm/W.
The company plans to follow the Duris E 3 with a larger and brighter LED later in the summer. The Duris E 5 will measure 5.6x3 mm.
Linear SSL trends
The trend toward purpose-built SSL-based linear fixtures is a strong one. Back in April, Cree announced the CR family of linear SSL fixtures was meant to replace tube-based fixtures.
At the recent Lightfair International (LFI) show, Cooper Lighting announced an LED module that was designed specifically for linear SSL fixtures. Moreover, the company has integrated the module into 32 different luminaires that carry different Cooper brands.
Osram Sylvania (a sibling business to Osram Opto) also launched a modular product at LFI that is meant for usage in 2- and 4-ft linear fixtures. The LED Distributed Array system combines 48 low-power LEDs on a 2x9-in circuit board. Luminaire designs can combine multiple modules to yield most any size fixture.
It's not clear if the Sylvania module utilizes the Duris E 3 LEDs that were announced after LFI. But the LED Distributed Array press release issued at LFI makes familiar sounding claims saying the module offers uniform light with no hot or dark spots.