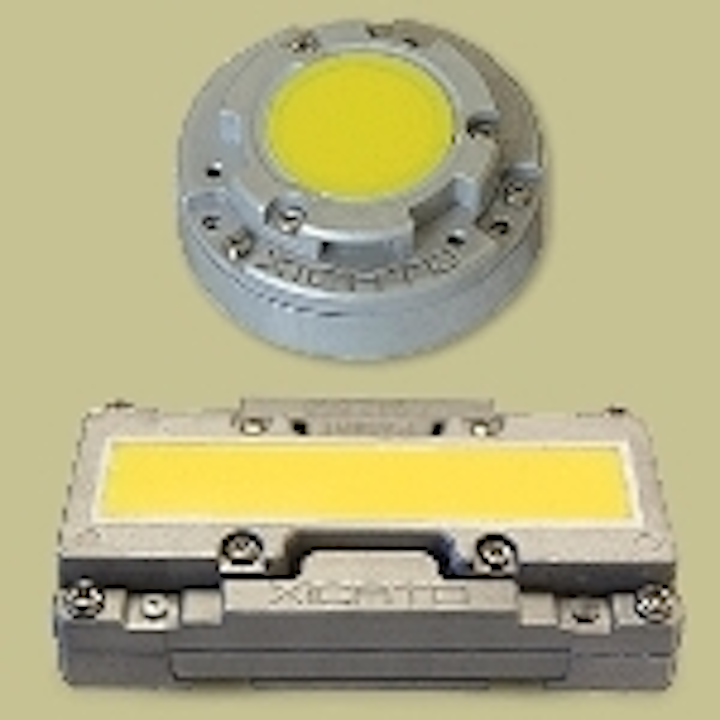 LED modules are becoming an enticing option for luminaire makers looking to develop new solid-state-lighting (SSL) fixtures, as the module manufacturers tackle some of the tough electrical, thermal, and optical issues. Philips Lighting, Xicato, and Vexica have all made recent module announcements and we covered the new Cree LMH2 module just a few days ago.
Xicato linear module and 3500k option
Xicato announced both additions to its linear XLM module and the availability of a 3500K CCT (correlated color temperature) option for both the Xicato Spot Module (XSM) and Xicato Linear Module (XLM) module families. The XLM is now available in models with 3000- and 4000-lm output. The new 3500K CCT option applies to the XLM and across a range of the circular XSM modules with output ranging from 1000 to 2000 lm.
Both the XSM and XLM use remote-phosphor technology. The XLM products have a color rendering index (CRI) greater than 80 while select members of the XSM artist family attain a CRI greater than 95.
Xicato says that the XLM is a good match for a broad array of high-output applications ranging from high-ceiling-accent lighting to architectural-flood lighting, delivering efficacy in excess of 80 lm/W. Both of the module lines support usage in outdoor or wet areas and offer an IP66 rating. The products are rated for 50,000-hour lifetimes.
Vexica announces Lumaera
The Lumaera LED module introduction marks UK-based Vexica's entry into the OEM supply segment. The SSL module integrates a triac-dimmable driver and includes mechanical mounting tabs on the front side that allow luminaire makers to easily add optics such as reflectors.
The remote-phosphor based design utilizes the Cree XLamp XT-E Royal Blue LEDs designed specifically for remote-phosphor applications. Initially, Vexica is offering the modules in 1200- and 2000-lm versions and has promised higher-output models in Q2 2012.
Vexica offers thermal-management options for the module including both heat sinks and an active-cooling system. The modules support CRI in excess of 90.
Philips spot and linear modules
Philips Lighting, meanwhile, has launched the second generation of its Spotlight Modules (SLM) in the Fortimo family of modules. The primary upgrade is in the efficacy area. The Gen 2 products feature module efficacy as high as 100 lm/W and system efficacy in the 90 lm/W range. Those numbers are significantly up as the original SLM family featured module efficacy in the 60-70-lm/W range.
Philip clearly understands the module value proposition. "We recognize that ease of design-in, use and maintenance are fundamental considerations for technical specifiers and manufacturers when developing luminaires," said Wouter Boxhoorn, marketing manager for OEM lighting solutions for retail. "These new spotlight innovations have been designed to make it less complicated to handle performance upgrades of LED modules."
The company also recently announced some linear-LED modules called the Fortimo LED Line family. The modules are targeted at replacement fixtures for linear-fluorescent lighting. The first modules feature 3 rows of LEDs arranged linearly along 1-ft module segments. Philips also plans a 1-row module allowing luminaire designers flexibility in achieving the desired lumen output.