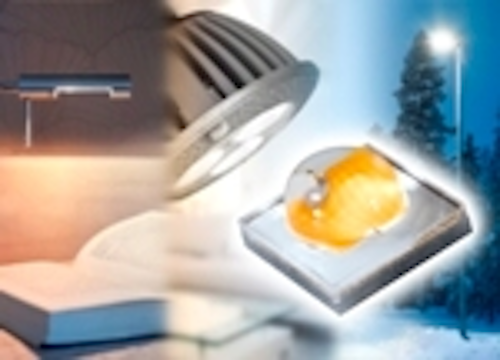 The Oslon Square LED product line from Osram Opto Semiconductors features a range of operating currents and a highly reflective package, making it suitable for applications ranging from office and home luminaires to LED street lights. The reflective package in the LEDs is designed to increase overall system efficiency.
Like the Oslon SSL, the Oslon Square LED measures 3x3 mm, has a low thermal resistance (3.8-4.0 K/W) and a highly reflective package that harnesses light that would be emitted out the LED sides or back. In a system, light can also be reflected back to the LED, for instance, using a diffuser.
For indoor applications, the Oslon Square EC version features a warm-white CCT of 3000K, CRI of 80, and good color stability over a 120° viewing angle. For more uniform light, a fine-bin order is offered. At an operating current of 700 mA, efficiency is 90 lm/W with a lumen output of 200 lm. At 350 mA, efficiency exceeds 100 lm/W. Because of its size, the EC version is also suitable for retrofit applications.
The Oslon Square PC and UW versions are designed for outdoor applications such as street lighting. They can be operated at currents of 200 mA to 1.5A, making them suitable for use in downlights and spotlights as well. The LEDs have CCTs of 4000K or 6000K, with CRI of 70 or 65, respectively. Efficiency at 350 mA is 130 lm/W.
Ivo Ivanovski, Product Manager for the Oslon Square series stated: "Every application places different demands on lighting, and with the Oslon Square we are providing a platform for tailor-made solutions. In addition to product features, we are offering logistical concepts that will make it easier for customers to develop luminaires."
Osram Opto has plans to add LEDs with additional CCTs to the product line.