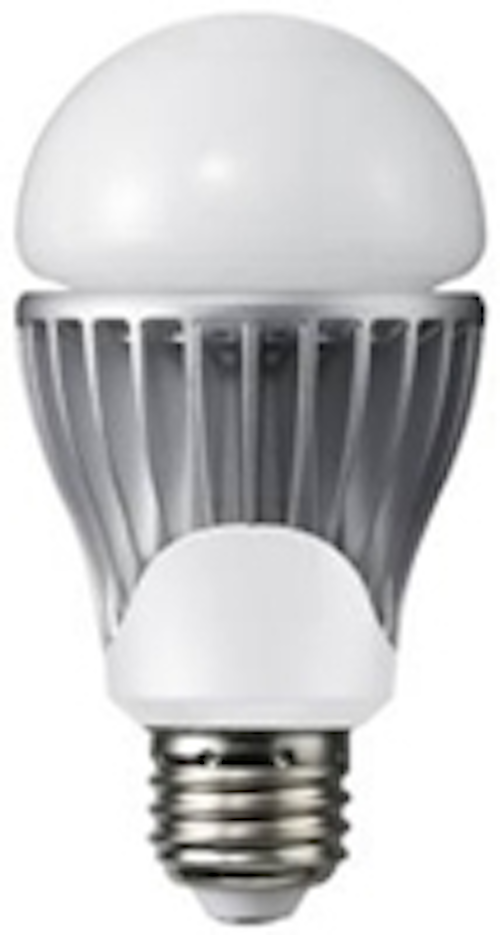 Samsung Electronics America (SEA), Inc., based in Ridgefield Park, NJ, has announced the availability of the company's first LED lamps for the US consumer market. In related news, Toshiba has introduced two omnidirectional A19 retrofit lamps that feature a traditional bulb design and are designed to Energy-Star specifications.
Samsung's LED line
Samsung announced its intention to
bring LED lamps to the US market
back in May 2011 at Lightfair, where it showed several retrofit lamps, but the products are now available. Samsung's initial product line includes A19, PAR20/30/38 and MR16 lamps, which are available from Lowe's, the home-improvement retail chain, via its
website
and at selected stores.
Samsung's line of retrofit lamps includes a directional 550 lm (40W-equivalent) A19 lamp priced at $19.98 as well as PAR20, PAR30 and PAR38 lamps with 400-lm, 890-lm and 1100-lm outputs and prices of $27.98, $49.98 and $59.98, respectively.
The PAR lamps, suitable for track and recessed lighting, feature variable beam angle of 20-40 degrees and an estimated 40,000-hour lifetime, or 20X longer than that of the equivalent halogen bulbs. All these lamps feature a CCT of 3000K and CTI of 80.
The MR16s, suitable for track, recessed and vanity lighting, are offered in two base types and with CCT of 2700K or 3000K, and estimated lifetimes of 30,000 hr (35W halogen equivalent at $29.98) or 40,000 hr (20W halogen equivalent at $16.98 and $21.98).
The seven products are dimmable, with efficacies varying between 50 lm/W and 64 lm/W depending on the lamp.
"Using the same digital expertise that brings true-to-life depth and crispness to Samsung's latest LED TVs, we are now bringing light with true-to-nature tones to any room in the home, any time of the day," said Kevin Dexter, Samsung's senior vice president of Home Appliances.
Earlier this month, the South Korean government announced that its dominant LED and electronics manufacturers, including Samsung and LG Electronics, are now forbidden from marketing LED luminaires in Korea, although LED retrofit bulbs and modules will be allowed. The move is designed to give smaller LED luminaire manufacturers in Korea a chance to build local business.
Toshiba's A19 lamps
Toshiba International Corp. has introduced two 40W-equivalent A19 LED lamps with a
traditional shape and 450-lm or 500-lm output
(2700K and 4000K CCT). Efficacy is 54 lm/W and 60 lm/W, respectively. The 450 Series lamps are manufactured to Energy-Star performance levels, including a lamp life that is at least 15× longer than a 40W incandescent with 75% less energy consumption.
The lamps are currently undergoing Energy Star testing. To date, Toshiba has 25 Energy-Star-qualified LED replacement lamps including PAR20/30/38 lamps. The A19 lamps are fully dimmable.
Toshiba was an early adopter of LED technology, having abandoned the production of incandescent light bulbs in March 2010. "We are 100 percent focused on LED lighting and completely committed to making it the prominent technology in the lighting industry," said Ken Honeycutt, Senior Vice President of Toshiba International and Chief Venture Executive of Toshiba's LED Lighting Systems Division.