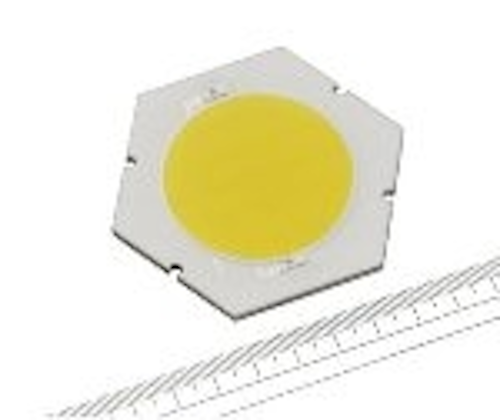 Sharp is apparently adding a 100W chip-on-board (COB) LED to its Zenigata family based on a recent press release issued in Japan. A translation of the document reveals that the GW7GAL50SGC LED will output 14,000 lm, and achieve efficacy of 143 lm/W while targeting solid-state (SSL) lighting applications such as street lights and high-bay lighting.
While the new LED will be part of the Zenigata family, it will be larger than existing family members and also be hexagonal in shape, whereas the existing Zenigata products are rectangular. The 50W Mega Zenigata LEDs measure 20×24 mm. The new 100W device is 86.8 mm measured from one point of the hexagon to the opposite point, and 75 mm measured from flat side to flat side.
Going from 50W and just under 7000 lm in the Mega Zenigata family to the new performance levels would have naturally required a larger COB array, but the increase in size is more substantial than the doubling of performance might suggest. The larger size may have been required to cool the individual LED emitters in the COB array, or applications for the new component may have required a larger light-emitting surface.
The initial part in the new family comes in a CCT of 5000K and CRI greater than 70. Sharp rates the LED for 40,000 hours of life. The company also said that the new package has a simplified connection scheme that will simplify the luminaire manufacturing process.
The company said that it will ship samples of the LED in early March with production volumes coming by the end of May. Samples will sell for 9000 Yen (about $97). The release said the initial production volume will be 5000 units per month.