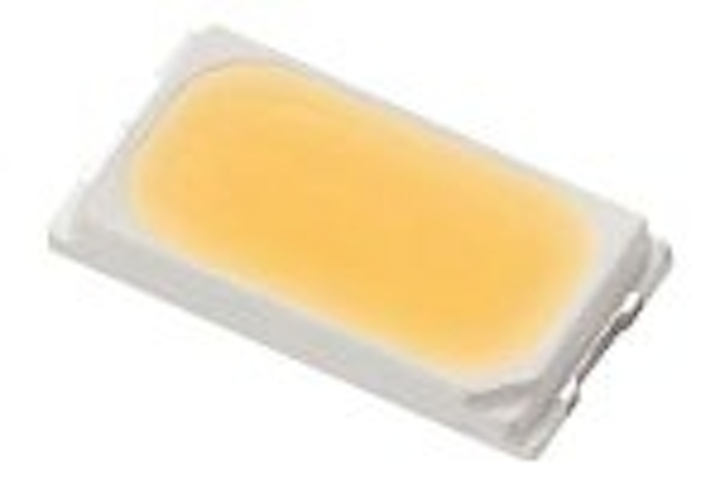 Everlight Electronics has announced a new ultra-thin mid-power LED family in the industry-standard 5630 plastic package with 0.2W and 0.5W devices and color temperatures spanning the 2700K to 6500K range. At Lightfair International (LFI), meanwhile, Philips Lumileds and Samsung announced new chip-on-board (COB) LEDs and LG Innotek showed what it claims are the highest-efficacy mid-power LEDs on the market.
Everlight targets retrofits
Everlight is specifically targeting standard and omni-directional retrofit lamps and light bars for linear applications with the new 62-217D family of mid-power LEDs. The company says that the low profile 0.65-mm-high package is especially suited for such applications.
Specifically, Everlight is targeting the 0.5W devices at lamps and the 0.2W devices at light bars where more LEDs might be packed closer together to eliminate visible pixels of light. The 0.5W device delivers efficacy as high as 115 lm/W at 5700K, and the minimum CRI across the family is 80.
LG Innotek
LG Innotek used the LFI event to present its capabilities to the lighting world. The company has been supplying LEDs more into the backlighting market in the past but at LFI indicated that it intends to make a major push into general illumination.
In the mid-power area, the company has qualified LEDs to LM-80 across a range of 50 to 280 mA drive currents. The company said its mid-power LEDs exceed 170 lm/W in efficacy. The company also exhibited lighting-class high-power and COB LEDs.
Philips Lumileds
Lumileds used LFI to makes its first push into COB arrays. The company had focused on smaller point sources that allow for better beam control. But many solid-state lighting (SSL) manufacturers find a single COB LED array much easier to work with, prompting Lumileds' entry.
The new Luxeon CoB family includes members that deliver as much as 6000 lm and reach efficacy levels to 120 lm/W. Lumileds will target applications in downlights, spotlights, and directional lamps.
Samsung LEDs
Samsung, meanwhile, has realized 129-lm/W efficacy in its COB LED products announced at LFI. The 13W, 26W, and 40W LEDs are offered across a range of 2700K to 5000K with a CRI of 80. The from a single device.
Just before LFI, Samsung had also announced a high-efficacy mid-power product that it said at the time was the most efficient on the market at 160 lm/W. The Korean manufacturers will evidently be competing aggressively in that space.