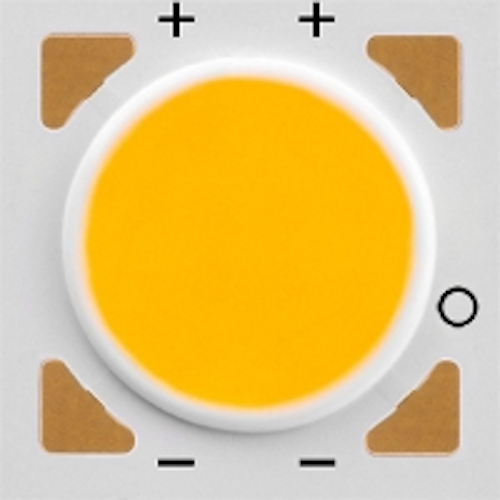 Bridgelux has expanded its lineup of chip-on-board (COB) LEDs with the new V Series that come in V6 and V8 models with a 6- or 8-mm light emitting surface (LES), respectively. The V Series is targeted at sub-1000-lm applications including directional retrofit lamps and other solid-state lighting (SSL) applications that require tight beam control such as security, track, spot, and accent lights.
Bridgelux had previously announced the larger Vero series of COB arrays for higher lumen-output applications, and in fact also announced an efficacy boost some months after the original launch. These new V6 and V8 LEDs allow the company to serve a broader set of applications with COB technology.
"These small LED packages are well suited for low-lumen applications and will help accelerate the migration from traditional light sources, such as incandescent and halogen, to cleaner, more efficient solid-state lighting," said Max Hong, chief sales and marketing officer of Bridgelux. "We leveraged many technological advances from our industry-leading Vero LED Array Series to bring our high-quality light engine technology to the V Series for lower-power, cost-sensitive applications."
Generally speaking, COB LEDs don't perform as well as individual emitters in the best designed SSL products, because you can better control the beam from a smaller point source. But developers find COBs much easier to apply given that the system typically includes a single LED for which you have to match driver circuit, thermal elements, and optics. Indeed, COB LEDs are proving increasingly popular in the SSL industry with most LED manufacturers offering the products.
Certainly, simplicity at the system level can drive broader uptake of LEDs in lighting, especially if efficacy is near what can be achieved with single-die LEDs. The V Series efficacy varies based on drive current, CRI, and other factors, but a 3000K LED with 80 CRI delivers 118 lm/W at nominal drive current — which is 175 mA for the 23.7V device under discussion. "We have been quick to qualify V Series arrays into several high-volume product lines so many of our clients can immediately benefit from the light quality and energy efficiencies realized with these light sources," said Jack Lam, president of Rio Lighting based in Hong Kong.
Bridgelux offers the V Series in a variety of electrical configurations with forward voltage varying from 17.8V to 35.6V. Likewise, the LEDs are available over a range of 2700K to 5000K CCTs with warmer LEDs offered with CRIs of 80 and 90, and 5000K LEDs also offered in 70-CRI versions.
As has been the case with a number of recent LED announcements, Bridgelux stressed the performance of its products at higher driver-current levels that are typical in product designs today with more reliable LEDs and exhaustive LM-80 testing. The efficacy on the LED mentioned previously drops only to 97 lm/W at double the nominal current.
The V series LEDs also follow the recent trend of COB LEDs with smaller LED dimensions for tighter beams. Cree, for example, announced 6- and 12-mm COB LEDs back in July and, like Bridgelux, listed targets such as small reflector-based retrofit lamps and small track heads.
Bridgelux specifically mentioned replacement of halogen-based retrofit lamps including both PAR and MR16 products in its announcement. Target luminaires include small-aperture downlights that are a growing trend in lighting design because powerful LED sources don't need the 4-, 6-, or 8-in. apertures that were necessary for legacy sources to deliver the required flux in downlights.