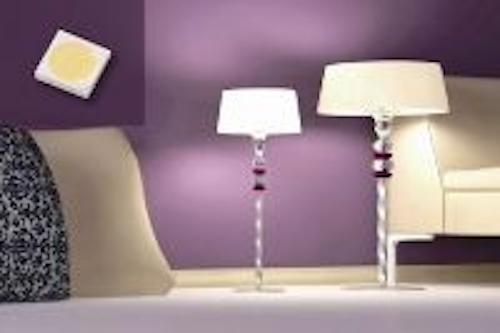 Everlight Electronics has announced the XI3535 1W white LED targeting omni-directional retrofit lamps, directional lighting, and other residential solid-state lighting (SSL) products. The 940-nm IR26-71C/61C LEDs target remote control applications and the 850-nm HIR83, HIR89, and HIR91 LEDs target proximity-sensing applications such as touch screens.
The new white LEDs are available across a CCT range from 2700K to 6500K. Everlight offers CRI greater than 80 for the entire family. The top-view LEDs have a 115° beam pattern.
Flux output is 105–100 lm for cool and warm white LEDs, respectively, at 350 mA of drive current. The efficacy ranges from 109–115 lm/W. The single-emitter LEDs have a nominal forward voltage of 3V. Everlight also offers two-emitter packages that operate from 6V and 150 mA of drive current.
IR and HIR LEDs
The infrared (IR) LEDs include the HIR83, HIR89, and HIR91 that Everlight refers to as high-efficiency infrared (HIR), and the lower-power IR26-71C/61C, and in both bands you have the option of top- or side-view models.
Offering a viewing angle of 30°, the top-view HIR89-01C produces 55 mW/sr of power at 70 mA of drive current. The top-view HIR91-01C/L297 delivers 40 mW/sr at 70 mA, and a beam angle of 40°. For side-view applications, the HIR83-01B offers an asymmetric pattern 100°×40° for applications such as touch screens and outputs 5 mW/sr at 20 mA.
The side-view IR26-71C and top-view IR26-61C are low profile LEDs that measure 1.2-mm high. The former has a 50° beam angle, and the latter a 20° beam angle. The LEDs output 8 mW/sr at 20 MA.