The Rubik SSL luminaire family enables geometrically-compelling tunable lighting designs to be integrated into the commercial built environment, while new Mainstream Dynamic technology enables teachers to have access to lighting that can optimize students' learning environment.
Acuity Brands used LightFair International (LFI) two launch two new tunable LED luminaire families that target specific lighting applications. The new Rubik solid-state lighting (SSL) product family combines innovative two-dimensional geometric form factors with tunable-white, grayscale, and accent-color capabilities. The new Mainstream Dynamic SSL platform includes luminaires designed for the classroom environment and simple-to-use controls that can configure the lighting in collaboration, visual acuity, mental activity, and high-energy modes.
Interested in more articles & announcements on tunable LED lighting?
Mainstream Dynamic is an Acuity technology brand that indicates that a luminaire product can produce tunable white light. The education-centric demonstration at LFI utilized the BLT Series Tunable White Luminaire developed under the Acuity Lithonia Lighting business. The luminaire is enabled by what Acuity calls an nTune LED light engine and is linked with nLight control technology.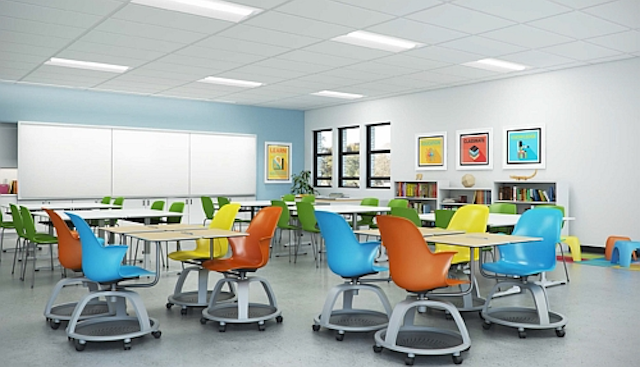 But Audey Cash, vice president of controls for Acuity, explained that while the system integrates complex technology, the product developers sought to deliver a system with a very simple use case. Indeed. the demonstration utilized a simple control panel with discrete buttons for each of the four modes mentioned previously.
The Collaboration mode is intended for general learning tasks and the SSL produces a cool 4200K CCT that Acuity said is ideal for collaboration. The Visual Acuity mode is for tasks such as reading and book study and the warm 3000K CCT improves visual acuity. The 3500K Mental Acuity mode is intended for tasks such as test taking. And the Renew mode aims to boost student energy and minimize fatigue with a very cool 5000K CCT.
Acuity did not use the term human-centric lighting (HCL) in introducing or describing the product. But clearly the product is built along the lines of HCL tenets. Still, some in the industry question whether science supports HCL concepts. But Europe has developed research indicating a significant future for HCL.
We suspect that Acuity simply sought to avoid any controversy around the HCL moniker while advancing the concepts. "Research supports the concept that lighting can have a positive effect on learning and attention," said Tricia Foster, director of education market development at Acuity. "Our tunable white solution is perfect in classroom settings as it allows teachers to create task-specific lighting effects at the touch of a button. BLT Series luminaires with nTune technology enable lighting adaptability in an elegantly simple, plug-and-play platform that is priced favorably for the education market."
Commercial tuning applications
In the commercial office area, Acuity took a completely different approach to controls and tunable SSL. The Rubik offering is intended to give lighting designers/specifiers a palette to create whimsical and quality lighting implementations with the designs seemingly integrated directly into the ceiling.
As the nearby photo shows, the Rubik family includes three geometric footprints — a square with nine of what Acuity calls lighting cells, an L shape with five cells, and a linear group of three cells. The products are designed to drop directly into 2×2-ft ceiling grids and can be cascaded to form most any pattern envisioned by a lighting designer.

Acuity launches tunable LED products for schools and offices at LFI
"Grid lighting has always presented creative challenges for lighting designers seeking to push the envelope of creativity without undue complexity or cost," said Donna Sumner, director of product marketing at Acuity. "Rubik offers a unique design vocabulary that enables the designer to think and behave beyond the grid — with almost limitless possibilities."
The SSL cells in the Rubik family can produce a variety of lighting effects starting with basic white in a variety of CCTs. Or customers can specify tunable-white cells in two ranges — a 3000K–5000K range called Rhythm and a 2700K–6500K range called Productivity.
The Grayscale option enables designers to add an element to a room that somewhat mimics natural light. Acuity's Cash said the Grayscale cells can emulate a passing cloud. The Rubik system is not intended to provide full RGB-type color tuning, but color cells can be used for accent lighting in hues from pastels to saturated colors. For example, the LFI demo used a blue cell and one end of a geometric pattern.
Again for the Rubik family, Acuity is relying on nLight controls to enable simple configuration of installed luminaires. We first detailed the nLight architecture back in 2012 in a controls feature after Acuity had acquired nLight.