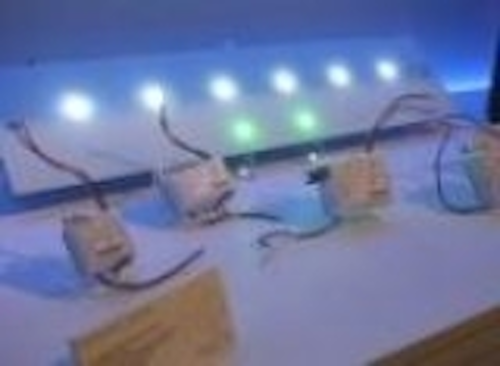 As a major event for the European electronics industry, last November's Electronica trade fair attracted around 2800 exhibitors and around 73,000 trade visitors to Munich, Germany. Green electronics was a key theme, and Ruediger Mueller, CEO of Osram Opto Semiconductors, was one of several participants in a debate on "The Contribution of the Semiconductor Industry to Climate Protection".
This is not a show for lighting companies, but many LED makers were present, some represented by distributors, and others such as Nichia were notable by their absence. All the major semiconductor makers were present and many (Texas Instruments being a good example) had demonstrations of drivers for lighting, LCD backlighting and other applications. The show also attracted LCD makers, with the majority showing demonstrations of LED backlighting.
Like other exhibitors, Future Lighting Solutions illuminated its booth with LED lights. As a demonstration of the advances in LED performance, FLS said that its booth at the last Electronica in 2006 was lit with more than 150 LED light fittings, while this year the company's slightly larger booth was illuminated with just 53 units. These were downlights from UK manufacturer IST, each containing 18 Luxeon Rebel LEDs and producing the equivalent light output to a GU10 halogen lamp (more details: www.ledsmagazine.com/press/16785).
LEDs Magazine had an interesting discussion with the head of FLS, Jamie Singerman, who has authored the Last Word column in this issue. We also had a preview of the newest FLS software tool, which will sit alongside the LED Reliability and Usable Light tools, and will enable designers to model multicolor mixing and CRI for different configurations.
+++++++
This article was published in the January/February 2009 issue of LEDs Magazine.
To read the full version of this article, please visit our Magazine page, where you can download FREE electronic PDF versions of all issues of LEDs Magazine.
You can also request a print copy of LEDs Magazine (available by paid subscription) and sign up for our free weekly email newsletter.