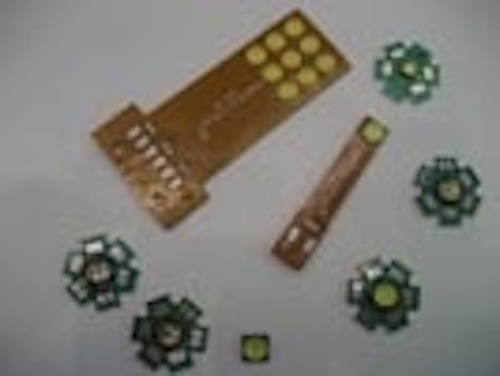 Enfis warm white LED light engine Many lighting applications require a high-quality warm-white light source, and many users require simple integration into their luminaire. Enfis has addressed these issues with its UNO Warm White High CRI product (available as an array or a light engine) which has a broad spectral output. The company describes it as an exceptionally high quality, powerful spot source of light that is ideal for high-end retail and museum displays, in a compact and cost-effective package.
It has a CCT of 3200K under typical operating conditions, and can give a CRI of >90. However, the focus has been on obtaining a true broad spectral performance over and above hitting nominal CRI values –there is more to color quality than CRI. The array is capable of producing 1000lm from an emitting area of just 0.5cm2.
Enfis will supply the array, or a complete light engine with electronic and (if required) thermal management, ready to integrate into a luminaire.
Enfis can also provide optics to simplify integration even further, enabling customers to minimize time to market and risk. This product is the latest in a range of Enfis arrays and light engines from 36W to 400W available in white, single colour, RGBA, RGBW and Hi CRI Vari-CCT options.
+++++++
This article was published in the May/June 2008 issue of LEDs Magazine.
To read the full version of this article, please visit our Magazine page, where you can download FREE electronic PDF versions of all issues of LEDs Magazine.
You can also request a print copy of LEDs Magazine (available by paid subscription) and sign up for our free weekly email newsletter.